The Expanse And 11 Other Great Science Fiction Shows On Amazon Prime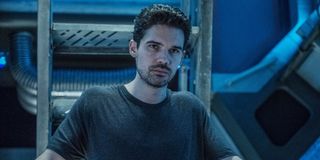 CinemaBlend participates in affiliate programs with various companies. We may earn a commission when you click on or make purchases via links.
After saving The Expanse, which originally aired on Syfy, from cancellation after four seasons, Amazon Prime became a hero in the eyes of millions of fans when it picked up the series. However, it should hardly be a surprise that the video streaming service would become a safe haven for the dystopian series, as it is already a hub for many, many great sci-fi shows.
From classics of television's golden age to its own modern day originals, Amazon Prime has a very eclectic selection of visually stunning, mind-bending and even hilarious shows that imagine worlds existing light-years away from our own… I do mean "light-years" correctly as a measure of distance, I should add. Of course, in reference to certain series, I am still speaking somewhat metaphorically.
So which series currently included with a membership with Amazon Prime am I referring to? Maybe you can figure that out among the 12 favorites of science-fiction television that I recommend you check out, starting with the show this piece calls out in its title…
The Expanse
In the tradition of cult classics like Firefly and even recent hits such as The Mandalorian, this Amazon Prime exclusive, which entered its fifth season after being acquired by the service, follows a ragtag crew who become reluctant heroes led by Jim Holden (Steven Strait) after uncovering a conspiracy with grave consequence for the Solar System which, in this futuristic timeline, has been colonized. Based on a popular, and ongoing, series of novels by James S.A. Corey The Expanse has even been compared to the likes of Game of Thrones by fans and critics alike for being one of the smartest series of its genre.
Stream it on Amazon Prime here
The Boys
Speaking of Prime Originals about a ragtag team of heroes, this adaptation of the comic book series by Preacher creator Garth Ennis, and developed by Seth Rogen and Evan Goldberg, is also about a war against distressing conspiracies, but more Earthly, personal and, above all, much bloodier. The Boys refers to a group of powerless vigilantes, led by ex-CIA operative Billy Butcher (Karl Urban), whose goal is to infiltrate and expose corporate sponsored, morally questionable costumed crimefighters in this series (with a second season on the way). The show manages to be both a brilliant satire of comic book tropes and celebrity influence, as well as an uncomfortably believable depiction of a world in which superheroes exist.
Stream it on Amazon Prime here
Tales From The Loop
Honoring my theory that no streaming service is ever complete without a science fiction anthology series is this fellow Amazon Prime original, which comes from creator Nathaniel Hawthorne, a writer and co-producer on FX's trippy adaptation of the same-named X-Men character, Legion. Based on the retro-futuristic designs of Swedish artist Simon Stålenhag, Tales from the Loop is also a trippy visual stunner of unique invention (invention itself being a key theme) depicting eight loosely connected stories told from the point of view of people who reside in the titular Loop: a remote scientific research facility in which the most bewildering things become possible.
Stream it on Amazon Prime here
Eureka
Speaking of scientific research facilities of bewildering possibilities, in this series that lasted five seasons on Syfy (when it was still called Sci-Fi), U.S. Marshall Jack Carter (Colin Ferguson) must get used to not being the smartest guy in the room when he is transferred to Eureka, a small town filled with some big brains, of which he serves as the sheriff. Eureka's disaster-of-the-week structure involving revolutionary, yet troublesome experiments and inventions can grow quite silly at times, but its comedic overtones amid mysterious over-arching storylines in the vein of primetime soaps like Desperate Housewives are enough to keep you more interested in science class might have.
Stream it on Amazon Prime here
Star Trek: The Next Generation
If you were, on the other hand, excellent at paying attention in science class, there is a chance you might also have been a committed follower to the debate regarding whether or not Star Wars is better than Star Trek. I'm sure an actual Enterprise will be built by the time that debate is put to rest. However, it is a far less controversial opinion to claim Star Trek: The Next Generation as the finest spinoff to Gene Roddenberry's iconic creation about a crew of heroic travelers exploring the deepest reaches of "the final frontier." Winning multiple Emmy awards during its 1987-1994 run, this cult favorite, led by Patrick Stewart's Captain Jean-Luc Picard, boldly goes where few science fiction shows (at the time, at least) had gone before.
Stream it on Amazon Prime here
Farscape
One show that has gotten relatively close to where Star Trek: The Next Generation boldly went is this space odyssey that remains one of the Syfy Channel's most celebrated original hits. Farscape is remembered for its complex adventurous storytelling, a colorful ensemble of characters and puppetry by the Jim Henson Company. After he is accidentally transported to a distant part of the universe currently plagued by war, astronaut John Crichton (Ben Browder) is forced to accept this hostile environment as his new home and becomes a member of a group of intergalactic fugitives in Farscape, which lasted four seasons, followed by a miniseries that wrapped up the story.
Stream it on Amazon Prime here
Orphan Black
There is actually a 10-episode audiobook that serves as a continuation of this U.K. import that follows Sarah Manning (Emmy-nominated, Canadian actress Tatiana Maslany), an orphaned street hustler whose life changes forever after witnessing the suicide of a woman with puzzlingly uncanny resemblance to her. After assuming the identity her doppelgänger, Sarah soon discovers the that she is one of several identical clones being picked off one by one by a mysterious assassin, prompting her to figure out why in Orphan Black, which lasted five monstrously acclaimed seasons on the BBC.
Stream it on Amazon Prime here
The Outer Limits
In a world of people who favor either The Addams Family or The Munsters, as well as Hawaii Five-0 or Magnum, P.I., it is rare to find someone who prefers The Outer Limits over the more popular fantasy anthology of its time, The Twilight Zone. In my book, however, that should further entice you to check out this sci-fi staple that ran from 1963-1965. Similar to the fate that befell Rod Serling's classic (twice), The Outer Limits was rebooted into a comparatively more successful series in the 1990s (also available on Prime), and, like its predecessor, is framed as a broadcast from an alternate dimension (pre-dating Rick and Morty).
Stream the 1960s Version on Amazon Prime here
Stream the 1990s Version on Amazon Prime here
The Man In The High Castle
Speaking of alternate dimensions, in 1962, renowned science fiction author Philip K. Dick (whose work has inspired Minority Report and Blade Runner, to name a few) released a Hugo Award-winning novel called The Man in the High Castle, which imagined a world in which the Allied Powers lost the Second World War, placing the United States under the control of the Nazis. Former The X-Files writer Frank Spotnitz developed this revisionist history fantasy into an Emmy-winning Amazon Original series, which is also produced by acclaimed filmmaker Ridley Scott. Over the course of four seasons, this show has presented a chilling depiction of rebellion in the face of a totalitarian regime.
Stream it on Amazon Prime here
The Prisoner
Of course, rebellion is less likely to happen in an environment where people are unaware that they are being oppressed, such as "The Village": a penitentiary disguised as an idyllic community from which the savvy "Number Six" (Patrick McGoohan) is desperate to escape. In 17 one-hour-long chapters, the 1967 British cult classic The Prisoner (which was remade into a six-episode AMC miniseries in 2009 with Jim Caviezel and Ian Mckellen) proves itself to be a prime example of science fiction that conjures a discussion of genuine and enduringly relevant topics facing society (such as individuality and liberty) through a uniquely fantastic lens.
Stream it on Amazon Prime here
The Hitchhiker's Guide To The Galaxy
There are other instances in which that fantastic lens is used for more absurd purposes, such as the B-movie mockery of Mystery Science Theater 3000, the high-concept, dimension-crossing family hijinks of Rick and Morty, and Seth MacFarlane's take on Star Trek in The Orville. However, none of those might have existed if not for Douglas Adams' groundbreaking British radio play The Hitchhiker's Guide to the Galaxy, which is about a human who encounters a cooky clan of space travelers after escaping Armageddon with his alien friend. Adams later adapted this story into a six-episode BBC miniseries in 1981 that much his devoted cult fanbase most likely favors over Disney's 2005 feature-length adaptation.
Stream it on Amazon Prime here
3rd Rock From The Sun
Of course, how could I forget one of the most lovably loony examples of science-fiction comedy to grace the small screen: this Emmy-winning sitcom which lasted six seasons and forces audiences to rethink the concept of intelligent life on other planets. John Lithgow, Kristen Johnson, French Stewart and a young Joseph Gordon-Levitt play a quartet of eccentric extra-terrestrials living among earthlings in plain sight on a mission to observe their cultural differences in 3rd Rock from the Sun, a show that manages humanize aliens in more relatable, yet ridiculously bizarre, way than ever before.
Stream it on Amazon Prime here
What do you think? Are my recommendations for the sci-fi obsessive Amazon Prime member out of this world, or does all of this feel very alien to you? Let us know in the comments and be sure to check back for more information and updates within the genre, as well as other recommendations of what to watch on Prime and more of your favorite streaming services, here on CinemaBlend.
Your Daily Blend of Entertainment News
Jason has been writing since he was able to pick up a washable marker, with which he wrote his debut illustrated children's story, later transitioning to a short-lived comic book series and (very) amateur filmmaking before finally settling on pursuing a career in writing about movies in lieu of making them. Look for his name in just about any article related to Batman.