No Big Deal, Just An Adorable Picture Of Nick Cordero's Kid Shared After He Woke From Coma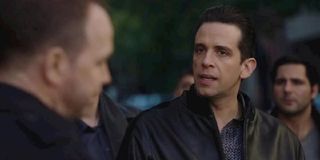 After more than a month in a coma following complications from his COVID-19 diagnosis, Blue Bloods' Nick Cordero has finally woken up. Cordero's wife Amanda Kloots has been providing updates since he was admitted to the hospital and, after so much bad news, things finally seem to be looking up to some extent. To brighten everyone's day, Scrubs vet Zach Braff recently shared an adorable picture of Cordero's son Elvis following the news that he's awake from his coma. You can check out the sweet photo of Cordero and Kloots' son below:
Elvis is simply too cute for words, and he's smiling so big. The photo is precious. Alongside the pic, Zach Braff, a longtime friend of Nick Cordero's, gave an update on his condition. As of the Instagram post, the Blue Bloods actor was able to look around and answer questions by "moving his eyes." That's good news because it means he's at least responsive. That said, Braff made it clear that his friend is still not out of the woods yet and that he's got a "long road ahead."
Zach Braff recently revealed that, while Nick Cordero was being treated in a New York hospital, Kloots and Elvis were living in his Los Angeles guest house. Cordero and his wife were in the middle of house-hunting in L.A. and had gone back to NYC to pack when the Blue Bloods actor became ill. Though Nick Cordero and his family are taking it day by day, Zach Braff implored his followers to "Smile like Elvis" despite the harrowing ordeal and thanked everyone who had been "rooting and praying for Nick."
Suffice it to say it's been a bumpy road for Nick Cordero, who was initially diagnosed with pneumonia. The medication he was given caused blood clots, which resulted in him having to have his leg amputated while he was in a coma. What's more, doctors had to insert a temporary pacemaker, and Cordero's lungs were damaged all due to COVID-19 complications. After such a traumatizing month, it's admittedly great to hear that he's finally awake.
Amanda Kloots has taken to social media quite often following Nick Cordero's diagnosis to keep fans in the loop as to what's been going on with his condition. The last update she posted mentioned that Cordero will have to eventually undergo physical therapy but that the doctors are "waiting for him to regain strength" first. Kloots herself has been a pillar of strength throughout, and I can't begin to imagine the relief she must be feeling now that her husband is at least awake. Based on Zach Braff's post, it seems Elvis is also thrilled by the news.
Here's hoping that Nick Cordero and his family receive nothing but good news moving forward. Stick with CinemaBlend for more updates.
Your Daily Blend of Entertainment News
Thank you for signing up to CinemaBlend. You will receive a verification email shortly.
There was a problem. Please refresh the page and try again.