Apparently Nick Cordero's Family Is Staying With Scrubs' Zach Braff While He's Hospitalized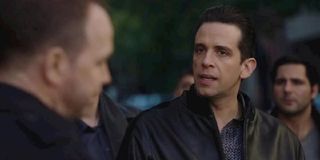 Blue Bloods and Broadway star Nick Cordero has been put through the ringer since contracting COVID-19. His symptoms got so bad that he was placed in a medically-induced coma. Scrubs vet Zach Braff, who is very close to Cordero and his family, recently gave an update on the Blue Bloods star. It would seem that Braff is giving some generous assistance to the Cordero family.
While Nick Cordero is still in Cedars-Sinai hospital, his wife Amanda Kloots and the couple's baby are staying in Zach Braff's guest house in Los Angeles. Braff revealed that the family had actually moved into his guest home seven months prior to Cordero's hospitalization. The family was looking to move to L.A. permanently and was staying at Braff's place until they found a house. Cordero and his family were in New York packing up their stuff when the Blue Bloods actor got sick. Braff gave an update about the family's current living situation. Here's what he had to say:
Braff's comments to The Hollywood Reporter appear to indicate that not much has changed about Nick Cordero's actual health status. As of this writing, Cordero hasn't yet woken up from his coma. Through updates from Amanda Kloots, fans know that the Blue Bloods actor had to have his leg amputated and have temporary pacemaker placed in his heart to keep his heart rate regular. I'm glad Kloots and their baby have a place to stay, as well as help from other members of the family.
More recently, Amanda Kloots opened up about Cordero suffering another setback toward recovery. While Kloots is hopeful that her husband will get better eventually, Cordero's lungs have been "severely damaged," and have holes in them. In short, it's been incredibly rough for Cordero and his entire family. Thankfully, they seem to have a rock solid support system to ensure that they're being taken care of while Cordero is in the hospital.
Aside from helping a friend in need, Zach Braff is also finding other ways to help encourage the public during the coronavirus pandemic. Recently, he, some of his Scrubs co-stars and celebrities from other medical shows came together to make a tribute video to celebrate medical workers who are on the front lines. With Cordero's situation, one can imagine that Braff understands the importance of the work they do.
Here's hoping that things start looking up for Nick Cordero and his family soon. Stay tuned to CinemaBlend for updates. In the meantime, be sure to check out our 2020 summer TV premiere guide for more on what to watch.
Your Daily Blend of Entertainment News