Outlander Season 6: Storylines That Need To Happen After Intense Season 5 Finale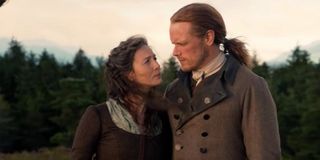 The Season 5 finale of Outlander proved to be an incredibly intense episode. Viewers had to watch as Caitriona Balfe's Claire Fraser was kidnapped, beaten, and brutally raped by several men. Although Sam Heughan's Jamie came swooping in to rescue her with a band of men, the damage was done and Claire spent the rest of the finale coping with the ordeal with the support of her family.
In lieu of a massive cliffhanger, Outlander's Season 5 ended with a bit more uncertainty as to what awaits Claire, Jamie, and the growing number of extended family members in Season 6. Keeping in mind that I haven't read Diana Gabaldon's books, which the Starz series is based on, here are six storylines that need to happen in Outlander Season 6.
6. Season 6 Needs To Explore Claire's Trauma
Claire went through an incredibly traumatic experience that saw her raped by several men. She was ultimately rescued and her kidnappers killed, but it was obvious that Claire struggled to move on in the aftermath; and no one could blame her for not going back to normal so soon.
Season 6 should take the time to explore Claire's harrowing ordeal. There has been enough sexual assault on Outlander that it warrants more than a couple of conversations before she's able to move forward. Therefore, it would be great if the Starz series explored Claire's state of mind over the course of Season 6 and how surviving the assault affects her day-to-day life and relationships.
5. Bree And Roger Need To Go Back To The Future
All throughout Season 5, Brianna and Roger contemplated going back to the future with their son, Jemmy. However, they were unclear whether Jemmy could travel safely through the stones and waited until they could know for sure before making any final decisions. Bree and Roger got their answer in Season 5's penultimate episode and began saying their goodbyes to Claire, Jamie, and Ian.
But, as soon as the family vanished into the stones, they were dropped right back to the 18th century. Bree and Roger should go back to the 20th century for good by the end of Season 6. After all, Season 5 hinted that they would return to the future so often that it would be a missed opportunity to not have them actually go through with it. I think it would make their story far more interesting than being stuck in a time where they clearly don't belong.
4. Outlander Needs To Reveal What Happened With Ian
Ian went to go live with the Mohawk tribe at the end of Outlander's fourth season. While his return in Season 5 filled the gaping hole he left behind, Ian's experiences with the Mohawk were glossed over. It seems he suffered through some tragic loss that was merely alluded to, but never touched upon.
Season 6 should showcase what happened with Ian during his time with the tribe through flashbacks. The storyline would serve as a way to keep Ian around on Fraser's Ridge while giving him his own arc. Did he lose someone he loved? Was it his fault? He asked whether it was possible for him to travel through the stones in Season 5 so he clearly wants to rewrite history. Season 6 should expand on this storyline and give viewers some answers.
3. Season 6 Needs To Pick Up The House Fire Storyline
Finding out that Fraser's Ridge burned to the ground with Claire and Jamie still inside is what prompted Brianna to travel back in time in Season 4. However, a season and a half later and there's still no word on whether Jamie and Claire's house burns down, who (or what) even starts the fire, and why.
Richard Brown swore revenge on Jamie for killing his brother Lionel in the Season 5 finale, so he's a candidate to burn the house down. That said, Season 6 needs to make this storyline a priority because viewers have been in suspense for too long wondering what will happen to everyone on Fraser's Ridge and how this house fire could affect Jamie, Claire, and their settlers moving forward.
2. Jamie Needs To Fight In The Revolutionary War
This storyline has been hinted at for a while, but nothing really came of it in Season 5. The American Revolutionary War was a big deal, shaping history in many important ways. Season 5 saw Jamie choosing to fight on the side of the British, donning a redcoat and everything (and it wasn't a good look on him).
That said, Jamie's always better and more passionate when he's rebelling and stirring up trouble, and there's nothing more rebellious than fighting in the war for freedom against the British. Think Culloden but on a larger scale. Hopefully, Season 6 will lead him to take more of an active role in the war, if only to help raise the stakes for the season.
1. Season 6 Needs To Include More Of Marsali And Fergus
Although Marsali and Fergus have been with Outlander for quite some time now, they usually don't get the screen time or storylines they deserve. Marsali became Claire's apprentice in Season 5, but we didn't get enough of that, and Fergus was… off working around the Ridge I'd guess. He rarely, if ever, appeared unless it was for family meals.
I love Marsali and Fergus, and Season 6 should finally give them a bigger and meatier storyline. In Diana Gabaldon's sixth book, A Breath of Snow and Ashes, Marsali and Fergus contend with their fourth child. Fergus struggles, believing that he's not enough to support his family and doesn't think he can help his son. Perhaps Season 6 could adapt this emotional storyline to finally center Marsali, Fergus and their family. I'll take anything with them at this point!
Outlander wrapped Season 5 last year and, with all the production shutdowns, viewers should expect Droughtlander to go on for even longer. The good news is there might be a Lord John Grey spinoff series in the works at Starz, though Outlander showrunner Matthew B. Roberts admits that "nothing is set in stone as of yet."
Outlander Seasons 1 through 3 are currently available to stream on Netflix. All five seasons are available to watch on Starz (opens in new tab). To find out what's coming soon to TV, be sure to check out our summer premiere guide.
Your Daily Blend of Entertainment News