Agents Of S.H.I.E.L.D.: 7 Things To Remember Before Season 7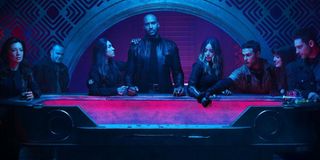 Warning: SPOILERS for Agents of S.H.I.E.L.D. are ahead!
The end is near for our favorite group of S.H.I.E.L.D. operatives. Yes, the final season of Agents of S.H.I.E.L.D. is quickly approaching, with the comic book show set to close out a seven-year run. While it's bittersweet to see the series end, it looks like Coulson, Daisy, May and the gang are about to face their greatest challenge yet. Needless to say, S.H.I.E.L.D. could indeed go out with a bang.
A lot transpired during Agents of S.H.I.E.L.D. Season 6, which means the status quo will be quite different when we revisit the characters in Season 7. Of course, with so much going on, there are several key things you may want to remember before you start the new episodes. Luckily, we're here to jog your memory before things kick off. So let's dive in and see how things are shaping up for Marvel's best agents.
The Team Will Be Time Traveling
In the Season 6 finale, Agents Leo Fitz and Jemma Simmons, along with Chronicom ally Enoch, set a plan in motion that could prevent the Chronicoms from taking over Earth. That plan involved upgrading the Zephyr One's Jump Drive with time travel technology, which allowed the plane to send the team to New York, circa 1931. While stranded in time, the team now hopes to learn about the S.H.I.E.L.D. secrets that the Chronicoms are aiming to use to conquer the planet.
The team may now be in the 1930s, but that doesn't exactly mean they'll stay there. The Chronicom Hunters seem bent on travelling to different points in S.H.I.E.L.D.'s history to ultimately wipe out the organization. So it's very likely the heroes could visit to a number of other time periods before the season concludes. The gang has never stayed in a single place for too long, as they recently fled (and lost) their latest base, The Lighthouse, to the Hunters. Yet having to possibly leap through time is going to take away even more stability from them.
This Phil Coulson Is An LMD
Another part of Enoch's plan involved the return of a friend that has since passed on. Because the Chronicoms are using history to destroy S.H.I.E.L.D., Enoch reasoned that the team needs an expert on the organization's history who can guide them on their new mission. With this, he suggested creating an advanced life-model decoy of Phil Coulson using Chronicom tech. Simmons was hesitant about the idea, as was director Alphonso "Mack" Mackenzie. Yet both went along with the idea, and Daisy Johnson proceeded to activate the android, which pleasantly greeted them.
The inclusion of an LMD Coulson is interesting for a few reasons. First off, it provides the show with a logical (and unique) of retaining Coulson, who died sometime after the events of Season 5. The character also brings the late agent's arc full circle, in a way. While he retains all of the memories of his counterpart and more, his appearance and demeanor are reminiscent of Coulson's from the first season. You can also bet it's going to be somewhat tough for the others -- particularly Daisy -- to work with him at times, due to the memories associated with their deceased boss.
May Isn't Dead, But Is Still Healing
Melinda May has more than lived up to her nickname, "The Cavalry," and this was especially true in the Season 6 finale. May was stabbed by Coulson lookalike Sarge and sent to the other side, yet she survived and prevented three of Izel's kind from unleashing their people. Not only that, but she also managed to return from the portal and then struck down Izel with the dagger Sarge used to stab her. Though May was near death due to her injuries, Simmons arrived with a group of agents and later had her placed in a Chronicom Cryo-Freeze Chamber to heal.
Images from Season 7 have already shown us that May will eventually be back in action, but given the extent of her injuries, she may not be at 100% right away. This means the team could have to do without her for a little while. Still, those who may be disappointed by this can take comfort in the fact that The Cavalry will definitely have a role to play.
FitzSimmons Is Separated, Again
Yes, it would appear that, once again, Leo Fitz and Jemma Simmons find themselves in two different places. Our favorite S.H.I.E.L.D. couple went through a lot last season, to say the least. After Fitz's death in the Season 5 finale, Jemma spent the early part of the next season searching for the present-day version of her husband who was still frozen in space. Even after she reunited with the prematurely-thawed Fitz, the two were still tested when they were placed inside each other's minds and forced to relive memories. To top it all off, it was revealed in the finale that Enoch's plan requires them to be apart.
At this point, it's almost a given that FitzSimmons won't be apart for long, which is partially why they had no problem accepting Enoch's proposal. Still, this situation is a bit different because, as of right now, neither us nor Jemma know exactly where Fitz is. The two can communicate, but can't know the other's location. It's incredibly likely that the duo will reunite before the series ends; it could just be a long road for them to actually get there.
The Chronicoms Want To End S.H.I.E.L.D. Once And For All
Malachi and his Chronicom Hunters were secondary antagonists in Season 6, but now they'll take center stage as the Big Bads. Following the destruction of his homeworld (Chronyca-2) at the hands of the Shrike, Malachi was one of the few Chronicoms left and believed that Earth should be established as the new Chronyca. He then set out to do so by killing his commander (Atarah), taking control of his remaining people and raiding Nick Fury's Toolbox for info on S.H.I.E.L.D.. Now, he and his followers are headed back in time to wipe out the organization, which he sees as their last obstacle.
Malachi has proven to be one Agents of S.H.I.E.L.D.'s most dangerous villains, as he's more than capable when it comes to a fight. In addition, he also has a group of loyal and lethal fighters who would follow him to the ends of the Earth. Let's not forget that Malachi is also a cerebral figure. Not many people would've thought to go for the Toolbox, and now, he holds the fate of S.H.I.E.L.D. in his hands. What those secrets are remains to be seen, but we can all assume that in the wrong hands, they could rock the foundation of the Marvel Universe's famous peacekeeping entity.
S.H.I.E.L.D. Has To Save… HYDRA?
HYDRA has been nothing but trouble for the team since the first season, and whenever they've crossed paths, it hasn't been pretty. But now, according to a recent trailer, the team will not only have to save their own organization, but their enemy's as well. Most are probably well aware that HYDRA has a long history, which Agents of S.H.I.E.L.D. has played with extensively. As of right now, the way in which the agents will have to preserve HYDRA hasn't been revealed, but the answer may be right in front of us.
S.H.I.E.L.D. and HYDRA are essentially two sides of the same coin, and they're forever linked by one fact – former HYDRA loyalists helped found S.H.I.E.L.D., which we learned in Captain America: The Winter Solider. So could Coulson and the gang be looking to protect some HYDRA members who will eventually contribute to S.H.I.E.L.D.? Or could there be a deeper connection that we're not even aware of? Only time will tell (no pun intended) how these entities connect to each other.
Fan-Favorite Characters Will Return
Of course, with this being the final season, how can things end without a few familiar faces showing up. So far, we know several actors will be returning, such as Patton Oswalt, who's portrayed the identical Koenig siblings. Here, he could very well be playing one of their ancestors. Patrick Wartbutron will also reappear as '70s agent Rick Stoner, who previously appeared in pre-recorded messages at the Lighthouse. The most surprising of the bunch, however, would have to be the return of Agent Carter's Daniel Sousa, played by Enver Gjokaj.
Aside from those characters who've been confirmed, it's easy to assume that there are more surprises in store. J. August Richard's Mike Peterson/Deathlok, a veteran character, seems like a perfect candidate. HYDRA's presence could even indicate the return of faces like Arnim Zola, who Toby Jones briefly reprised on Agent Carter. And if we're dancing on the line of both hero and villain, who wouldn't want to see one final appearance from Brett Dalton's traitorous Grant Ward? With 13 episodes in this final season, there's more than enough time for old friends and enemies to come through for a final hurrah.
So what are you most looking forward to seeing on the final season of Agents of S.H.I.E.L.D.? What questions do you still have about the team's final mission? Let us know in the comments section below, and be sure to check out the season premiere when it airs on Wednesday, May 27 at 10 p.m. ET on ABC. Also, keep it here at CinemaBlend as we cover the final episodes, along with everything from the world of TV and movies.
Covering superheroes, sci-fi, comedy, and almost anything else in film and TV. I eat more pizza than the Teenage Mutant Ninja Turtles.
Your Daily Blend of Entertainment News
Thank you for signing up to CinemaBlend. You will receive a verification email shortly.
There was a problem. Please refresh the page and try again.