One Walking Dead Vet Has Never Watched The Show, But Thinks Its Message Is Still Relevant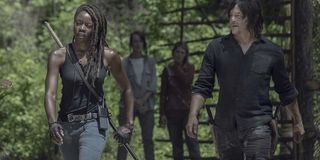 It's been several years since Sarah Wayne Callies has appeared on AMC's The Walking Dead, having been killed off in Season 3 of the long-running series. Callies played Lori Grimes on the show, but she died in childbirth after delivering daughter Judith via C-section. It turns out that the actress has never actually watched The Walking Dead, but she does think the show's message is still relevant today.
Sarah Wayne Callies has played a number of characters across television over the years, including Katie Bowman on Colony and Dr. Sara Tancredi on Prison Break. However, The Walking Dead remains one of her most memorable TV outings. As Lori, she charged ahead, fighting her way through the zombie apocalypse alongside her son and Rick's friend Shane. With the series now in its tenth season, Callies recently admitted to never having seen the AMC show, despite having been a large part of it. Here's what she told AssignmentX:
It's not an unfair assessment to say that The Walking Dead was, and still is, a scary and "subversive" show. Yes, the comic book-based show is still relevant in its dystopian glory and all. However, the climate's definitely shifted since the series first premiered in 2010 and it sounds like Sarah Wayne Callies wouldn't mind seeing TV shows that have a bit more of a positive message.
To that point, the actress went on to say that Council of Dads, the NBC drama she currently stars in, definitely had the "we're going to be okay" storytelling vibe that she wanted to be a part of right now. It's a far cry from The Walking Dead, last I checked, whose characters were still fighting off the zombie apocalypse and many deranged humans, that's for sure.
The AMC series unfortunately had its Season 10 finale delayed because post-production work was unable to be completed ahead of its original April 12 air date. The episode will air at some point later this year, but fans will have to wait for now.
Stay tuned to CinemaBlend for updates. For more on what to watch in the coming months, be sure to check out our 2020 summer TV premiere guide.
Your Daily Blend of Entertainment News
Thank you for signing up to CinemaBlend. You will receive a verification email shortly.
There was a problem. Please refresh the page and try again.