11 Superhero Characters The Walking Dead Cast Would Be Perfect To Play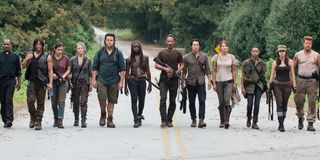 One of the most successful comic book adaptations of all time is The Walking Dead. The AMC show, which Frank Darabont developed from Robert Kirkman's popular comic series chronicling humanity's struggle to survive a world overrun with reanimated corpses, has earned multiple Emmys, a Golden Globe nomination, and two spin-offs (so far) during its 10 (soon to be 11) season run.
For those who are not fans of the Image comic, it may be easy to forget that the series is a comic book adaptation, considering its tone and subject matter are far different from what "casual fans" are used to: superheroes. Of course, there is no room for superhuman, costumed vigilantes in an ongoing battle between humans and zombies (excluding a famous Marvel storyline in which that is exactly what happens), but it does give me an idea.
While alums Michael Rooker (Merle Dixon) and Danai Gurira (Michonne) have already graduated into the Marvel Cinematic Universe with significant roles, as Guardians of the Galaxy's Yondu and Black Panther's Okoye respectively, the rest of the cast of The Walking Dead has yet to know what it is like to be a superhero. So, why don't we take a look at some of the show's current series regulars (and even a few old favorites) and imagine what heroes they would be perfect as.
Norman Reedus - The Punisher
Ironically, Norman Reedus' Daryl Dixon was originally not meant to survive Season 1 of The Walking Dead. Which leaves us to wonder, had things gone according to plan with the unexpectedly popular character, if Reedus might have stolen his former co-star Jon Bernthal's chance to play Frank Castle on Netflix's Daredevil and his solo spin-off, The Punisher. From how he rocks a leather jacket, owns the road on his chopper, and his mastery of the stoic loner shtick as Daryl, Reedus embodies exactly who would imagine should play the widowed, vengeful war veteran in an MCU reboot... with all due respect and appreciation for Bernthal, of course.
Andrew Lincoln - Blackhawk
He may have left the show in 2018 but, until then, Andrew Lincoln was the heart and soul of The Walking Dead as former cop Rick Grimes: a man who, when his head was in the right place, showed great leadership, made especially commendable by Lincoln's performance. Thus, I believe he would be the perfect choice to lead an adaptation of the DC comic Blackhawk, which follows a squadron of World War II-era fighter pilots which Steven Spielberg has been reportedly working on. However, I would recommend he update it to the present day, so that Andrew Lincoln can play the current leader of the Blackhawk Program, whose name is... Andrew Lincoln.
Melissa McBride - Zealot
Carol Peletier is not one bit the person she was in Season 1 of The Walking Dead, having evolved from a meek, desperate mother into a fearless, fully capable, and even ruthless warrior, as Melissa McBride has played her. Lady Zannah, better known as Zealot, did not become the fierce warrior from the planet Khera that she is known as today, but was skilled in weaponry and expert martial arts long before she became stranded on Earth and joined the WildC.A.T.S. in a war against Daemonites (while this DC property was still exclusively an Image character). Not only does McBride look the part, but has demonstrated how she can be the part on The Walking Dead for years.
Christian Serratos - Zatanna
Going from playing Ned's crush Susie Crabgrass on Nickelodeon's Ned's Declassified School Survival Guide to playing a badass soldier on The Walking Dead Christian Serratos pulled off one of the coolest magic tricks in TV history by exhibiting a stunning range of versatility. Magic is actually a specialty of Zatanna Zatara, the DC character I think she would be a spot-on choice to play. She may not have same combative expertise as Rosita Espinosa, but as a member of Justice League Dark, Zatanna has had her fair share of monstrous enemies.
Josh McDermitt - Forbush Man
Something you may not know about Josh McDermitt, who plays Eugene Porter (a The Walking Dead survivor who lied his way to ensure his own protection) is that he got his start in stand-up comedy, even if his moments of comic relief on the series make that less surprising. While the actor has proven his dramatic chops on the show as well, I think the actor would do well by playing a superhero that reflects his roots and one of the funniest characters known to the Marvel Universe is Forbush Man, known for his failed attempts to be in superhero organizations like the Revengers, S.H.E.E.S.H., and the Echhs-Men. So, yes, this cast-iron helmet wearing, fourth wall-breaking "crimefighter" is really more of a superhero parody, but that is a pretty hot concept right now, after all.
Steven Yeun - Kamen Rider
Steven Yeun is actually going to be in a recently announced new series based on the Robert Kirkman superhero comic Invincible... but as an animated character, not live-action as I was personally hoping to see the Korean-born actor, best known as pizza deliverer turned expert Walker fighter Glenn Rhee for the first six season of The Walking Dead, portray a new comic book character. One superhero who, despite his influence, is not very well known to American audiences is Kamen Rider, a crimefighting motorcyclist dressed as an insect created by Japanese manga artist Shotaro Ishinomori. I think that if anybody can sell the idea of an English-language adaptation of this overseas cult sensation, it's Yeun.
Lauren Cohan - She-Hulk
It has been proven that a performer can smoothly transcend comic book universes (Michael Keaton, Ben Affleck Laurence Fishburne) and British actress Lauren Cohan has already been in two, from playing Maggie Greene (whom Glenn would eventually, unofficially, marry) in The Walking Dead and Martha Wayne (Batman's mom) in Batman v Superman: Dawn of Justice. So, why not go for the trifecta and join the MCU as a character whom plenty of Marvel fans have recommended her for already: Jennifer Walters (better known as She-Hulk). The green superhero goddess' solo Disney+ series has yet to be cast at this moment so, if the producers of TWD can write in a few reasons for Maggie to be absent a little more often after Cohan returns to the role, I think she has this in the bag.
Chandler Riggs - Red Robin
The first person you usually think of when you think of Batman's sidekick is Dick Grayson (the first Robin, after all), but then there are also those who have enjoyed Jason Todd or Damian Wayne in the costume, but Tim Drake may be the least appreciated, as far as I can tell. A The Walking Dead character whom I believe was under-appreciated for much of his time on the series was Rick Grimes' son, Carl, the role that actor Chandler Riggs grew up playing. Therefore, putting the actor, now 20, in the role of Tim Drake's current alias, Red Robin, seems like a match made in Heaven to me.
Sonequa Martin-Green - The Crimson Avenger
I do quite miss Sonequa Martin-Green as Sasha on The Walking Dead, for her resilience, complexity, and stunning skills behind a firearm. With how well she brought that character to life, I think the actress (who currently plays Commander Michael Burnham on Star Trek: Discovery) qualifies profoundly to play Jill Carlyle, a lawyer who, when coming across a pair of cursed pistols, becomes the latest to bear the title of deadly vigilante The Crimson Avenger.
Ross Marquand - Booster Gold
Yet another The Walking Dead alum who has joined the MCU is Ross Marquand... just not to be superhero, but to use his extraordinary talent of impersonation to fill the role of Red Skull (originated by Hugo Weaving) in Avengers: Infinity War and Avengers: Endgame. So, instead of convincing Marvel to give him double duty, I recommend he try out for the other team as a relatively overlooked DC superhero named Booster Gold. While playing the attention-seeking, time traveling Justice League member, who debuted in the 1980s, would be a far cry from his TWD character Aaron, if you look at everything else the actor has done (including voice roles on Seth MacFarlane series), that's just what he may be looking for.
Alanna Masterson - Sage
You think you can call yourself an expert of all X-Men characters just by having seen every movie? Well, think again because one very cool and complex mutant named Sage, who is just as skilled in telepathy as she is in computer hacking, piloting, and martial arts, has only been depicted onscreen in Fox's short-lived spin-off series The Gifted. I believe that the MCU should some day give Sage a new home on the silver screen and I recommend Alanna Masterson because, like Sage, her The Walking Dead character, Tara Chambler, was a headstrong individual who could invoke a hostile personality as a defense mechanism if need be.
Seth Gilliam - Green Lantern
If you are like me, you grew up with the John Stewart incarnation of Green Lantern, who was brought to life on the acclaimed animated series Justice League in 2003. Also, if you are like me, you are probably hoping that Stewart gets to be the star of future films about the organization of intergalactic cops equipped with rings that allow them to fight evil with whatever their imagination conjures. If you saw the side by side photo above with Seth Gilliam (preacher Gabriel Stokes from The Walking Dead) next to an animated shot of John Stewart, I think it speaks for itself why he has a good shot at the role.
Jeffrey Dean Morgan - Batman
I know, you know, and even Jeffrey Dean Morgan himself knows that this is the correct answer for which superhero the actor, whose most memorably comic book role to date is the despicable Negan, should play. Ever since he appeared alongside The Walking Dead co-star Lauren Cohan as the parents to young Bruce Wayne in Batman v. Superman: Dawn of Justice, fans have theorized for years that Morgan would reprise the role of Thomas Wayne in a film based on the Flashpoint storyline, which imagines an alternate world in which Bruce died that fateful day, leaving Martha to go crazy and become the Joker and Thomas taking on the identity of The Batman. The actor has said he is down for the role, if it ever happens, that is.
What do you think? Are these superheroes perfect for The Walking Dead clan, or do you think I'm dead in the brain to imagine such character choices? Let us know in the comments and be sure to check back for more updates on the popular horror show as well as more hypothetical casting sessions here on CinemaBlend.
Your Daily Blend of Entertainment News
Jason has been writing since he was able to pick up a washable marker, with which he wrote his debut illustrated children's story, later transitioning to a short-lived comic book series and (very) amateur filmmaking before finally settling on pursuing a career in writing about movies in lieu of making them. Look for his name in just about any article related to Batman.
Your Daily Blend of Entertainment News
Thank you for signing up to CinemaBlend. You will receive a verification email shortly.
There was a problem. Please refresh the page and try again.