Why Castle's Stana Katic Is Still 'Grateful' Despite Being Fired From The Show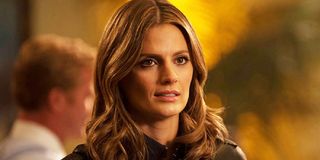 It has been several years since Castle ended its eight-season run, but many are still rather bewildered by ABC's decision to fire Stana Katic, the series' leading lady and one half of the drama's main couple. It became one of the most controversial TV exits from the last few years. Katic has since moved on to starring in Amazon's Absentia and recently explained why she is still "grateful" for her time on Castle despite being fired from the show.
Castle's series finale saw Stana Katic's Kate Beckett get a happy ending with Nathan Fillion's Richard Castle, with a seven-year flash forward that saw them still together and raising three children. However, things weren't so happy in the real world. Katic was fired from the show ahead of the Season 8 finale and Castle was poised to move into its ninth season without one of its co-leads. The show was ultimately cancelled a few weeks after Katic's ousting, rendering the decision moot. Four years later and it sounds like Katic has come to terms with her departure. Here's what she told Australia's Daily Telegraph (via the Daily Mail):
Stana Katic seems to know how important her character was to Castle and how she "contributed to the success of the show" to be too bitter about the whole thing after so long. That said, it's understandable why she was confused and hurt by the experience. She was the series' co-lead and making plans to move forward without her on the show didn't make much sense at the time. I still don't think the decision makes any sense, but there's no changing the past.
In 2018, Katic admitted that she was "still not clear on the thought process" behind her firing, but she seems to have made her peace with it in the years since. At the time of her controversial exit, one possible reason emerged as the explanation behind her firing, but a contract issue has never been confirmed. Another cast member, Tamala Jones, was also let go from the show alongside Katic, while Nathan Fillion was signed on for another season before the show was unceremoniously cancelled.
Stay tuned to CinemaBlend for updates. To stay informed about the upcoming TV show line-up, be sure to check out our 2020 summer premiere guide.
Your Daily Blend of Entertainment News