Why Agents Of S.H.I.E.L.D.'s Clark Gregg Was 'Thrown' About Coulson Becoming An LMD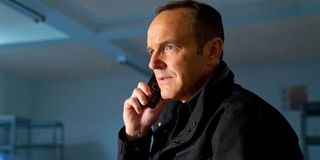 Phil Coulson is coming back for the final season of Agents of S.H.I.E.L.D., but he won't quite be the agent and former organization head that viewers have come to know. The version of the character that fans will see this year is an LMD (Life-Model decoy) that was created to help guide the team during their final mission. If this development was somewhat jarring for you, then don't worry, because Clark Gregg felt the same way.
Clark Gregg has played Agent Phil Coulson for over a decade and, in that time, he's become very in tune with who Coulson is and what he wants and doesn't want as a character. So the actor was a bit surprised when he found out his character would become a Life-Model Decoy. Regardless, he sought to make this iteration of the beloved character more than just a machine:
Clark Gregg's recent interview with Variety further proves just how much he loves Phil Coulson, but it also shows that even he can still be surprised as to how the character's story plays out.
Phil Coulson has had an interesting journey since he debuted in Iron Man back in 2008. The committed and humorous operative would be instrumental in getting the Avengers together, with his death at the hands of Loki propelled them to assemble for the first time. Of course, he was later revived and was tasked with leading his own covert team on Agents of S.H.I.E.L.D. before becoming the organization's new director.
Unfortunately, due to an agreement made with Ghost Rider, Coulson died sometime between Seasons 5 and 6, though Gregg still remained on the show. During Season 6, he played Sarge, a villain possessing Coulson's appearance.
Sarge would meet his end in the season finale, but, with the team having been thrust into a time travel mission to save S.H.I.E.L.D., they need someone with a wealth of knowledge on the peacekeeping entity's history. This is where LMD Coulson comes in.
Although turning Coulson into an LMD may not be what anyone (including Clark Gregg) would've expected for the final season, it makes sense. The android appears to possess the attitude that Coulson exuded during the first season, which essentially brings things full circle.
We'll get an idea of how he's able to aid the team when Agents of S.H.I.E.L.D. returns for its final season on Wednesday, May 27 at 10 p.m. ET on ABC.
Covering superheroes, sci-fi, comedy, and almost anything else in film and TV. I eat more pizza than the Teenage Mutant Ninja Turtles.
Your Daily Blend of Entertainment News
Thank you for signing up to CinemaBlend. You will receive a verification email shortly.
There was a problem. Please refresh the page and try again.