Why It's Always Sunny's Rob McElhenney Is Actually Most Proud Of His Quarantine Episode Of Mythic Quest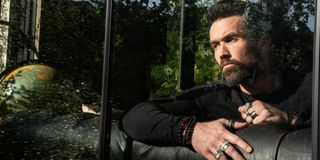 As someone who's worked as a creator, writer, and actor on FX and FXX's record-breaking comedy It's Always Sunny in Philadelphia, Rob McElhenney has a lot of accomplishments to be proud of in his career. Being able to deliver that show's hilarious twists and turns for 15+ years is something that could easily be pegged as one's greatest accomplishment. And yet, when it comes to what he's most proud of at this point in his career, McElhenney is pointing to the latest episode of his Apple TV+ series, Mythic Quest: Raven's Banquet.
During a recent press roundtable for the quarantine-centric tenth episode of Mythic Quest: Raven's Banquet, the comedy centered around the eclectic staff of a popular video game company, Rob McElhenney talked about how much effort went into pulling the installment together out of thin air. You can easily see why he'd claim this episode is so dear to him, since in its own on-brand sort of way, this very special one-off (entitled Mythic Quest: Quarantine) went on a mythic quest itself, starting with the decision to make it happen in the first place. Let's dive into what Rob McElhenney had to say.
The Miracle Of Pulling Mythic Quest: Quarantine Together In Three Weeks
During the Apple TV+ roundtable I took part in, alongside several other journalists, I asked how quickly he and the creative team pulled together this spontaneous episode with so many moving parts. Obviously, Mythic Quest: Quarantine needed to focus on the fact that the show's characters were isolated at home, but still working.
Also, like most TV shows putting out fresh episodes and reunion specials in recent weeks, the format necessarily needed to feature a cavalcade of Zoom windows showcasing everyone's interactions throughout the duration. So if David (David Hornsby) and Brad (Danny Pudi) were going to wage war via matches of Street Fighter II, they would have to do it over the internet.
Rob McElhenney, along with co-writers (and fellow Always Sunny alum) David Hornsby and Megan Ganz, had somehow dreamed up and refined a final product that plays just as smoothly as any pre-quarantine episode of television. And it all came together like so:
Mythic Quest: Quarantine was, surprisingly, written in just three days by the writing team tasked with undertaking the topical and definitely hysterical special episode. All things told, including prep-work and shooting, the whole process became a three-week ordeal.
Each actor on Mythic Quest: Quarantine was shipped three iPhones for them to shoot with, in a manner that McElhenney assured everyone was "safe, sterile, and legal." All involved also took part in tech support lessons, along with virtual location scouting in the actors' homes. Combine that strangeness with all the usual problems associated with a TV shows production, and you've got the recipe for what Rob McElhenney says is the most difficult, but most pride-inducing episode of TV that he's made yet. And it was all done without anyone having to leave their homes.
The Tropes That Mythic Quest: Quarantine Wanted To Avoid
At the very least, McElhenney and the Mythic Quest: Quarantine crew wanted to make an episode that would be funny enough to take people's minds off of current events. But in a world where other projects like Parks and Recreation cast reunion and late night talk shows have already used video meetings as a delivery device, the writers considered certain jokes and stereotypes would be better off avoided.
Rob McElhenney spoke to this fact when I asked him what sort of tropes and clichés he and his co-writers wanted to avoid with Mythic Quest: Quarantine. His answer followed a logical path for someone who, among other accomplishments, has delivered episodes of comedy so good that they've dipped into somewhat dramatic material with great ease.
If you enjoy jokes about people not being able to get their teleconferencing equipment working, rest assured that Mythic Quest: Quarantine still delivers on that front. Thanks to scenes where F. Murray Abraham's C.W. Longbottom tries tackling technical difficulties of his own, you do get the sort of jokes you'd expect from an eccentric workforce being suddenly forced to do their jobs from home.
But even in that respect, C.W.'s frustrations take some interesting turns while milking the gag for all of the comedy gold it can. And still, Mythic Quest: Quarantine's writers found ways to handle one other very important task that was brought up early on: they wanted to make viewers feel less alone.
That happens via a subplot where lead engineer Poppy Li (Charlotte Nicdao) falls down a personal rabbit hole after finishing up a rather urgent project. Throughout the rest of the episode, Poppy is shown to be having a rough time working under quarantine conditions, as she's isolated from both friends and family on two different continents. Without work to bury herself into, she has a small meltdown, which culminates in Rob McElhenney's character, Ian, visiting her during lockdown to give her a hug.
That's the kind of physical reassurance that people aren't getting a lot of these days (unless there's a lot of strict conditions and supervision in place). Still, it's a moment that paints the timely nature of Mythic Quest: Quarantine in a more dramatic light, rather than just being a show for laughs.
That said, it should also be noted that the big scene at the end between Rob McElhenney's Ian and Charlotte Nicdao's Poppy was, in fact, achieved through the usage of an acting double. While McElhenney was the only cast member to technically leave home during the shoot, he just walked outside and straight back to his own property. The Mythic Quest: Quarantine stand-in that McElhenney directed to fulfill his role as Ian just so happened to be Nicdao's actual husband. By using forced perspective to account for the difference in size between the two men, along with some directing via earbuds, McElhenney & Co. achieved the scene's desired effect.
How Mythic Quest: Quarantine's Big Rube Goldberg Device Came Together
The show's true coup de grace was that showstopping ending involving a gigantic Rube Goldberg-esque device that united the Mythic Quest: Quarantine cast in one fantastic gag that turned teleconferencing into a thing of laughable beauty. Remember again that this episode was written in three days, and was fully produced in only three weeks.
An insane but motivated process was required to set up the episode's huge gag, which didn't miss a step as it played out from one Zoom window to the next, and also included one last gag on F. Murray Abraham's behalf. Starting such a joke depended upon a lot of planning, and with his final bit of commentary, Rob McElhenney described the initial stages of crafting this joke thusly:
This lengthy process included each of the machines being built and then filmed for a quick tutorial video, after which they were broken down, sterilized, and shipped off to Mythic Quest: Quarantine's entire cast. After going through their own sterilizing and set-up procedures, the actors would take part in Zoom calls, where each machine was shot one at a time.
It was an arduous procedure, for sure, but one that provided possibly the funniest story to come out of Mythic Quest: Quarantine's production, if not also the entire first season. Which is mostly because of the cast member who had the most difficulty with their own personal machine: Chernobyl showrunner Craig Mazin. According to Rob McElhenney:
The creator and showrunner of HBO's accolade-earning Chernobyl somehow lucked out in getting the most difficult machine out of the entire Mythic Quest: Quarantine cast. His frustrations on the show might not top those award wins he's celebrated, but it still makes for one hell of a story.
Were Mythic Quest: Quarantine's efforts all worth the efforts in successfully creating a funny, yet relatable episode of television? From where I'm sitting, they surely were, for being timely while still remaining instantly watchable in any given time or place, Megan Ganz, David Hornsby, and Rob McElhenney have set a high standard for any episode focused on dealing with the pandemic.
With many other TV shows no doubt planning to tell similar stories across various genres, Mythic Quest: Quarantine is a valuable lesson in how to approach these trying times with a level of humor and subtle drama that can invoke both entertainment as well as empathy. It might just be one of this year's best episodes of TV, too, depending on how the rest of the year shakes out. Because really, if there's a way to top this band of friends and colleagues' loud cheers capped off by F. Murray Abraham yelling "Fuck you, Coronavirus," I don't know what it is.
If you're looking to experience the entirety of Mythic Quest: Raven's Banquet Season 1, as well as the Quarantine episode, you can now watch all 10 episodes on Apple TV+. (opens in new tab)
Your Daily Blend of Entertainment News
Senior Movies Contributor
CinemaBlend's James Bond (expert). Also versed in Large Scale Aggressors, time travel, and Guillermo del Toro. He fights for The User.
Your Daily Blend of Entertainment News
Thank you for signing up to CinemaBlend. You will receive a verification email shortly.
There was a problem. Please refresh the page and try again.