Will Agents of S.H.I.E.L.D.'s Final Season Tie In With The MCU? Here's What The Producers Said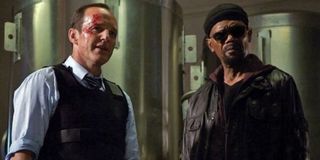 The final season of Agents of S.H.I.E.L.D. is off to a strong start, as Phil Coulson and his team are now time traveling to prevent a plot that would spell the end for planet Earth. As the season goes on, familiar faces will come back into the fray, and S.H.I.E.L.D. lore will expand. But many have still been wondering if the show will feature any connections to the larger Marvel Cinematic Universe. Well, the producers have now provided an answer.
Season 6 of Agents of S.H.I.E.L.D. mostly avoided MCU references or Easter eggs (which may have had something to do with a certain movie that was released last year). But showrunners Jed Whedon and Jeffrey Bell, along with executive producer Jeph Loeb, has confirmed that the final season will stumble upon something MCU-related:
As you can imagine, their comments to Deadline weren't exactly revealing, as they likely don't want to give away any surprises. Still, the fact that fans can expect some ties to the MCU is exciting.
Agents of S.H.I.E.L.D. has held an interesting position in the Marvel Cinematic Universe since it first premiered in 2013. From the jump, the producers wanted to make it apparent that the show was firmly set in the cinematic universe. Sometimes these connections were smooth and interesting, while others were seen as excessive or unnecessary. On top of this, the films have never actually referenced the events of the series, which made things a bit more awkward.
As mentioned, the creators sought to avoid references in the sixth season. However, given the season's placement, it's honestly hard to say if S.H.I.E.L.D. is still technically MCU canon. The fifth season finale closed with the beginning of Thanos' arrival on Earth, which viewers saw happen in full force in Avengers: Infinity War. But when the sixth season picks up a year later, there's no mention of the Snap or half of the population being gone. This likely stemmed from the fact that the writers weren't aware of Marvel Studios' plans for Endgame.
This might also be a larger reflection of the change in the relationship between Marvel's TV and film branches. Before the dissolution of Marvel Television, a sort of line had been drawn in the sand between the two entities. As a result, Agents of S.H.I.E.L.D. became even more of a black sheep in the Marvel family.
While we may still question the series' exact position in the MCU, it's nice to know that the creators are still going to have some fun with the larger universe. The show is said to be taking some major risks this year and, after that premiere, any MCU connections could be major.
Agents of S.H.I.E.L.D. airs Wednesdays at 10 p.m. ET on ABC.
Covering superheroes, sci-fi, comedy, and almost anything else in film and TV. I eat more pizza than the Teenage Mutant Ninja Turtles.
Your Daily Blend of Entertainment News
Thank you for signing up to CinemaBlend. You will receive a verification email shortly.
There was a problem. Please refresh the page and try again.