Tiger King's Jeff Lowe Promises To Leave A Mess For Carole Baskin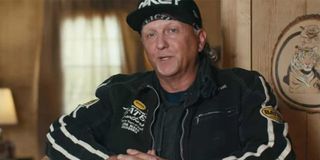 A lot has happened since the events of the highly controversial (and extremely popular) Tiger King docuseries. The eponymous former zoo owner, Joseph Maldonado-Passage (or Joe Exotic), is currently serving a 22-year prison sentence, while his former employees have become something of celebrities due to their involvement in the Netflix documentary. More recently, Exotic's longtime rival, Carole Baskin, has just been granted control of his properties, meaning current operator Jeff Lowe must leave, but he isn't exactly planning to straighten things up before he heads out.
Jeff Lowe has confirmed that he won't be taking care of things around the G.W. Exotic Animal Memorial Park as he prepares to vacate the area, and that may not be a good thing for Carole Baskin. According to Lowe, the park is in currently in a state of "complete hell."
Part of the reason Jeff Lowe appears to be so anxious to leave the site is that he associates it with bad memories of working with Exotic. At this point, he and his wife, Lauren, are more focused on leaving everything behind and starting fresh in Thackerville, Oklahoma:
Jeff Lowe's plan is to open a larger animal park in Thackerville sometime in the fall, which adds to his disinterest in Joe Exotic's old park. Despite everything, he did wish Carole Baskin good luck in taking over but did stress that getting things up and running won't be easy. Lowe went on to tell ET that the 16-acre park was never a good place for business, as he believes it was poorly constructed.
Although both Jeff Lowe and Joe Exotic had their problems with Carole Baskin, the two also came to blows themselves over the course of the documentary. Exotic brought in Lowe as a business partner to help improve the park. But ultimately, the two came to blows when their ideologies clashed, with Exotic believing that Lowe was attempting to push him out of his business.
During this time, Jeff Lowe also offered to assist Joe Exotic with his legal problems and, as a result, Exotic ended up putting the park in his name. This would, of course, lead to Lowe and his wife to gain total ownership following Exotic's arrest in 2018.
Tiger King featured more than enough drama on its own, so it's crazy to think that there's it's not over just yet. Though Carole Baskin's ownership and Jeff Lowe's departure may indeed signify the end of what's been a long (and honestly unbelievable) road. We'll just have to wait and see how the two progress in their new ventures. And while we do that, we can still relive the original series, which is still streaming on Netflix.
Covering superheroes, sci-fi, comedy, and almost anything else in film and TV. I eat more pizza than the Teenage Mutant Ninja Turtles.
Your Daily Blend of Entertainment News
Thank you for signing up to CinemaBlend. You will receive a verification email shortly.
There was a problem. Please refresh the page and try again.