11 Series You Should Stream If You Liked Tiger King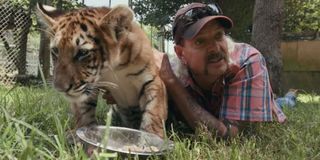 CinemaBlend participates in affiliate programs with various companies. We may earn a commission when you click on or make purchases via links.
Nearly a month after its official streaming premiere, Netflix's Tiger King remains the highest-viewed program on the worldwide service. Suffice to say, there are a lot of folks watching the bizarre, fascinating docu-series. Perhaps with time, we'll be seeing more new episodes and dramatized retellings of Joe Exotic's bonkers story. But in the meantime, there's a good chance that you're looking for a few other documentary series to stream. Don't worry. We got your covered. Whether you're looking for true crime, oddball real-life characters, unbelievable true stories, or other stories of murder and revenge, we have a plethora of recommendations that are all available at the click of a button. Here are 12 other shows you can stream if you loved Tiger King.
Wild Wild Country - Netflix
What It's About: Wild Wild Country tells the story of Bhagwan Shree Rajneesh, a guru leader who built a religious cult in Oregon in the 1980s and eventually launched several bioterror attacks.
Why Tiger King Fans Will Like It: If you watched Tiger King for its bizarre characters, intriguing twists, and cult-like figures, then you'll definitely be interested in Wild Wild Country. Much like Tiger King, it's filled with sex, danger, money, and scandals galore, and it's another Netflix docu-series that people wouldn't stop talking about following its premiere on the streaming service. If you love watching charismatic, enigmatic figures who lure in a number of people in their nefarious schemes and unlawful activities, you'll certainly find a lot worth investing and exploring with Wild Wild Country.
Stream It On Netflix here.
The Jinx: The Life and Deaths of Robert Durst - HBO Go
What It's About: The Jinx tells the story of Robert Durst, a New York real estate heir who was accused of committing a series of murders, including his wife.
Why Tiger King Fans Will Like It: Following the release of Andrew Jarecki's biopic All Good Things, the movie's subject, Robert Durst, reached out to the filmmaker and professed his desire to be interviewed, despite never expressing interest to speak to a journalist prior. What follows is The Jinx, which primarily showcases several hours of interview footage with Durst, and it leads to one of the most shocking endings in documentary TV history. If you found Carole Baskin's personal backstory, where she may or may not have been responsible for her late husband's mysterious disappearance, to be riveting, you'll definitely find yourself hooked by The Jinx.
Stream It On HBO Go here.
Don't F—k With Cats: Hunting An Internet Killer - Netflix
What It's About: A three-part limited documentary series, Don't F--k with Cats follows a group of internet sleuths who launch a manhunt to track down a man seen killing two kittens in a graphic internet video. As they dig deeper, it's revealed that his killing spree goes even deeper.
Why Tiger King Fans Will Like It: Much like Tiger King, Don't Fk with Cats is a mini-series that focuses primarily with harmed cats and murder charges. Suffice to say, this crossbreed of animals and true crime makes it an easy comparison to the streaming service's hit docu-series. Be warned, though, that even by true crime documentary standards, Don't Fk with Cats is supposed to get pretty graphic and extremely disturbing.
Stream It On Netflix here.
McMillions - HBO Go
What It's About: McMillions is a six-part documentary series that recounts the controversial scam created around McDonald's Monopoly game that took place between 1989 and 2001. It features interviews from the FBI, the folks at the center of the scheme, the family members of those involved, and other subjects.
Why Tiger King Fans Will Like It: While a little long, at six episodes, McMillions (also titled McMillion$) tells a fascinating, unorthodox true crime story, one that also involves varied recounts, a number of animated personalities, and no shortage of scheming. While it did get some media notice, it's a story that has similarly only recently captured the nation's attention, notably with Ben Affleck expected to direct a dramatized version starring Matt Damon later down the road. It gives a whole other dimension to hitting "Go to Jail."
Stream It On HBO Go here or Hulu (for a limited time) here.
Freakshow - Tubi/Amazon Prime
What It's About: Freakshow is a reality series chronicling Todd Ray's Venice Beach Freakshow operations.
Why Tiger King Fans Will Like It: If you love oddball personalities and watching the day-to-day operations of their unusual business, you'll find a lot to enjoy in Freakshow. The AMC reality series follows former music producer Todd Ray and the various employees --nearly all of whom are proudly adopting the term "freak"-- that he found around the world. Now residing in Venice Beach, we get a peek into what it's like to run this business, and the challenges and obstacles they face in keeping the place running. If you liked Tiger King for how it gave you an unconventional-yet-beguiling look into the day and life wildlife exhibit owners, you'll want to get a ticket to this show.
Stream It On Tubi here and Amazon Prime here.
The Confession Killer - Netflix
What It's About: Henry Lee Lucas was considered America's most prolific serial killer, confessing to hundreds of murders. But when conflicting DNA results and other contradicting information comes to light, a lot of doubt is casted on Lucas' statements.
Why Tiger King Fans Will Like It: Filled with shocking twists and conflicting reports of true crime, The Confession Killer is another Netflix docu-series that explores a beguiling criminal and how his reputation doesn't always match the facts. There are a bunch of interviews with subjects involved with this late figure's story, causing more doubt as to who this man was and to what extent was he involved (or not involved) with these heinous murders.
Stream It On Netflix here.
Dark Side of the Ring - Vice on TV
What It's About: Dark Side of the Ring is a documentary series exploring controversial subjects and specific events within the world of professional wrestling.
Why Tiger King Fans Will Like It: Wrestling has no shortage of boisterous, over-the-top figures who want to make everything a spectacle. Alas, while the world of professional wrestling is often fake (even if the injuries can often be devastatingly real), the truth of the matter is that there are several dark figures within the ring, and their stories are the sources of controversy among wrestling fans. In this documentary series, you learn more about these dark subjects from within the world of professional wrestling. Much like Joe Exotic, they're entertaining personalities, but they have dark histories too.
Stream It On Vice on TV here.
Making a Murderer - Netflix
What It's About: Making a Murderer tells the story of Steven Avery, a Wisconsin man who served 18 years in prison for a wrongful conviction, only to later be wrongfully charged for charged for a separate murder charge.
Why Tiger King Fans Will Like It: There's a good chance that you've seen it already, but Making a Murderer was once Netflix's biggest, most talked-about true crime docu-series hit before Tiger King took that throne. Filmed over the course of 10 years, this compelling true story explores the subject and his history of being accused of these crimes, and it brought nationwide attention to this story. Certainly, it's one of the most popular documentary series in streaming history, and it provides a compelling and stirring look at criminal injustice in local government over the course of several decades.
Stream It On Netflix here.
Conversations with a Killer: The Ted Bundy Tapes - Netflix
What It's About: A four-part documentary series diving into over 100 hours of interviews/archival footage of serial killer Ted Bundy, as well as interviews from family, friends, surviving victims and the law enforcement who worked on his case.
Why Tiger King Fans Will Like It: Ted Bundy was as fascinating as he was revolting as a public figure, particularly when exploring the disturbing details of his case. His history of being a tabloid sensation was in sharp juxtaposition with the extreme sensitivity of his serious crimes. He remained a figure of great interest until he was sentenced to his death in 1989. Even after that, Bundy remained a figure of continued intrigue. This docu-series explores this disturbing person in-depth, in his own words, while also talking to those who either knew him or were his victims.
Stream It On Netflix here.
Evil Genius: The True Story of America's Most Diabolical Bank Heist - Netflix
What It's About: A four-part true crime docu-series that explores the murder of Brian Wells and a high-profile incident in 2003 known as the "pizza bomber" case.
Why Tiger King Fans Will Like It: In 2003, a Pennsylvania pizza delivery man robbed a bank, saying he had a bomb tied to his neck. Following a stand-off with the police, the bomb went off, instantly killing him. Found on his person were a series of complicated instructions, suggesting that the robbery/bombing were part of an elaborate scavenger hunt. The story only gets more bizarre from there. This story may-or-may not have inspired the 2011 comedy 30 Minutes or Less, although the filmmakers and studio claim otherwise, but this story is no joke. It results in a surprising, compelling mystery with several surprising turns.
Stream It On Netflix here.
Cheer - Netflix
What It's About: Cheer is a six-part docu-series which follows a Texas-based college cheer team as they're preparing to compete in the National Cheerleading Championship held in Florida.
Why Tiger King Fans Will Like It: While not nearly as extreme as Joe Exotic, cheer coach Monica Aldama plays a similarly looming presence in this Netflix docu-series, particularly as she pushes her students to their physical and emotional limit in order to make them the best they can be. And the students —much like the employees as these wildlife exhibits — go along with it, despite explanation or reason. Either because they're attracted to the lure it provides or because they don't see any other option. The result is a compelling, emotionally devastating journey into these athletes' lives.
Stream It On Netflix here.
Do you love Netflix's Tiger King? What other documentary shows would you recommend? Let us know in the comment section below.
Your Daily Blend of Entertainment News
Will is an entertainment writer based in Pittsburgh, PA. His writing can also be found in The Playlist, Cut Print Film, We Got This Covered, The Young Folks, Slate and other outlets. He also co-hosts the weekly film/TV podcast Cinemaholics with Jon Negroni and he likes to think he's a professional Garfield enthusiast.