Tiger King's Joe Exotic Still Trying To Get Out Of Prison, Claims He'll 'Be Dead In 2-3 Months'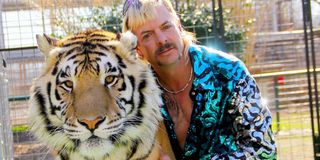 Netflix's Tiger King: Murder, Mayhem, and Madness made Joe Exotic — whose legal name is Joseph Maldonado-Passage — a household name. However, now that the docuseries is no longer trending as much, Exotic's star has lost some of its shine. While his husband Dillon Passage has been enjoying newfound popularity, Exotic is still trying to get out of prison, and is now making the stark claim that he'll "be dead in 2-3 months."
The former zoo owner is currently serving a 22-year prison sentence, having been convicted of two counts of murder-for-hire.(That's along with 17 other crimes, including nine counts of violating the Endangered Species Act.) From prison, Joe Exotic wrote a letter to his "supporters, fans, and loved ones," which was acquired by TMZ. In it, he wrote three full pages filled with general grievances, some of which detailed the abuse of the prison system that he believed would contribute to his eventual death. He also asked President Trump, Cardi B, and Kim Kardashian for their assistance in his release from prison, believing the current health crisis to be over (which it's not). Read some of what he wrote below:
Joe Exotic's letter also reveals that the former zoo owner has not been visited by his husband for quite some time. (Dillon Passage recently partied it up with Netflix's Too Hot to Handle star Bryce Hirschberg, however.) Exotic is clearly upset about the lack of communication from Passage and rather morosely claims that he should have just "have ended things" after the death of husband Travis Maldonado in 2017.
What's more, Joe Exotic sounds incredibly annoyed that people are sending him screenshots of Dillon Passage. He claimed that it's not funny and "not healthy" for him to see his husband hanging out with friends while he's in prison. Most of the letter is quite despondent, with Exotic also writing:
Joe Exotic sounds a lot less hopeful than in the interview he provided Netflix with in March, where he promised that he would be "as crazy" when he eventually leaves prison (and he thinks he will). While Exotic's been behind bars, his rival Carole Baskin has gained control over his zoo, and Nicolas Cage has been cast to play Exotic in a TV series, with other projects also in the works. Perhaps this is what Exotic meant about people making money off of him while he's in prison.
Tiger King: Murder, Mayhem, and Madness is currently streaming on Netflix. Stay tuned to CinemaBlend for updates on Joe Exotic. For more on what to watch in the meantime, be sure to check out our 2020 summer TV premiere guide.
Your Daily Blend of Entertainment News
Thank you for signing up to CinemaBlend. You will receive a verification email shortly.
There was a problem. Please refresh the page and try again.