10 Most Significant Same-Sex Couples In TV History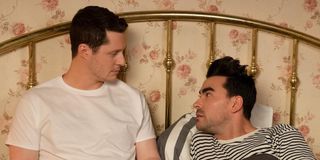 June is annually Pride month, which celebrates the LGBTQIA+ community, and pays homage to the generations who fought for equality in queer history. And while social distancing may affect the way the community physically celebrates Pride, there are plenty of opportunities to celebrate queer stories on television. While it's been a long process, television has been putting out some very groundbreaking stories including the queer community.
There are ten such stories which really stick out to me as the most significant, and I've listed them below. You might be surprised that Cam and Mitch from ABC's Modern Family ended up on the cutting room floor, but I chose to exclude them to highlight some lesser-known choices. (And because the comedy didn't even show them kissing or being affectionate with each other until the second season.)
The list isn't ranked, so this isn't to say that any of these same-sex television relationships is more important than the other. But they each have something to celebrate, as conversations about inclusion and visibility continue to dominate the entertainment industry. I'll be breaking down a bunch of shows, so spoiler alert for those worried about plot details.
Willow And Tara (Buffy the Vampire Slayer)
Before kickstarting The Avengers and infamously completing Justice League, Joss Whedon was a television man. His work on Buffy the Vampire Slayer continues to remain a part of pop culture, with the supernatural dramedy having a fiercely loyal fanbase. One of the many ways Buffy's legacy was felt was through groundbreaking depiction of a lesbian romance with Willow and Tara, played by Alyson Hannigan and Amber Benson, respectively. The two characters bonded over their shared magical abilities, with Willow's coming out as a witch mirroring her sexual revelation in Season 4.
Willow and Tara have an iconic place in television history, notable for having the first lesbian sex scene on television. The characters lifted each other up throughout the run of Buffy the Vampire Slayer, although they weren't without their rocky times as well. It's a story of trauma, self-confidence, and magic, and is one of the show's main love stories. But, Buffy is ultimately not a happy ending type of show, so their story ends in tragedy.
David and Keith (Six Feet Under)
Six Feet Under is an Emmy winning drama that aired on HBO in the early 2000's. It focuses on a deeply imperfect family (mostly) living in and running a funeral home in Los Angeles. The show's principal cast includes Dexter star Michael C. Hall as David Fisher, a closeted mortician. When the show starts he's secretly dating a police officer named Keith (Mathew St. Patrick), with both of them keeping their relationship a secret from their respective families. David and Keith's romance helps encapsulate what it was like living as a gay person in the early 2000's, and shows how sometimes positive change happens gradually.
David and Keith fight countless times throughout the series and break up, but always end up coming back together. It was a major step in visibility to see an interracial gay relationship on television, and the two grow together and start their own family throughout Six Feet Under's five seasons on the air. David's sexuality is truly at the crux of his characterization on the show, and we got to see both characters be fully fleshed out in an honest way. Plus, sometimes it's just fun to watch them fight.
Callie And Arizona (Grey's Anatomy)
There are long-running TV shows, and then there's Grey's Anatomy. The ABC medical drama just wrapped up its whopping 16th season on the air, and is showing no signs of slowing down. And while there's been countless hook ups and character pairings, a few love stories stand out among the rest. Chief among them are Callie and Arizona, played by Sara Ramirez and Jessica Capshaw. The two meet in Season 5, and the sparks were immediate. Arizona proved to be a great foil for Callie's previous girlfriend Erica Hahn, and brought a sense of light and joy to Grey's.
Callie and Arizona would navigate the complexities of being in an interracial relationship, differences in faith, and becoming parents. But the infamous Grey's plane crash put a huge divide in their relationship, with Arizona blaming her wife for amputating her leg. In the end the two wouldn't get their happy ending, with their lowest point being a vicious fight for custody over their daughter Sofia. But when they were good they were really good, and their disagreements never demonized either character. Grey's Anatomy is known for shedding a light on hot button issues, and watching Callie and Arizona, no doubt, opened some minds.
Noah and Wade (Noah's Arc)
Before introducing RuPaul's Drag Race to the world, cable network Logo was producing scripted content. Chief among them was Noah's Arc, which ran for two seasons starting in 2005, before eventually getting its own movie event. The series revolved around a group of black gay men living in Los Angeles, and prominently featured issues facing that community, including dating, same-sex parenthood, HIV and AIDS awareness, and homophobia. While there were plenty of love stories on Noah's Arc, the most significant is between Darryl Stephens' title character and Wade (Jensen Atwood).
Noah quickly falls for fellow screenwriter Wade during Noah's Arc, and eventually those feelings are reciprocated. We watch as Wade comes out as a gay man, and faces the harsh realities that can sometimes accompany that process for black men. It was extremely significant for this series to show two black men being in love and having sex during this time, as it was before television was as inclusive as it is now. What's more, we eventually got to see their wedding in the movie Noah's Arc: Jumping the Broom.
Elena and Syd (One Day at a Time)
One Day at a Time is a reimagining of the '70s series of the same name, and originally aired over on Netflix before making its way to Pop. The sitcom focuses on a Cuban-American family, led by a single mother played by Justina Machado. Her daughter Elena (Isabella Gomez) goes through the coming out process throughout the show's first season, serving as a major plot point in the show's early run. Eventually she finds a love interest Syd (Sheridan Pierce), with the two bonding over their shared, politically-minded, worldview.
What makes this such a significant couple is that Syd identifies as nonbinary. One Day at a Time is great at dealing with real-world issues in an accessible way, and with plenty of laughs. Syd's identity is one great example of this, and we've watched as the Alvarez family learned and adjusted their language to properly address Elena's partner. It's another major step toward visibility for the LGBTQIA+ community, in particular nonbinary folks who may be watching the show.
Patrick and Richie (Looking)
There are certain iconic TV love stories that have continued to resonate with audiences. The Office had Jim and Pam, Cheers had Sam and Diane, and Sex and the City followed Carrie's relationship with Big. But for me, they don't hold a candle to Looking's Patrick and Richie. HBO's Looking only aired for two seasons, but I found it to be an especially powerful, joyful, and realistic look into what it's like to be gay man in modern society. Jonathan Groff's Patrick is the show's protagonist, alongside his group of friends living in San Francisco. Patrick had two different boyfriends throughout the show's run, but the fandom knew that Richie (Raúl Castillo) was endgame.
The two characters meet in Looking's first episode, and their chemistry is immediate. But, a variety of challenges stand in the way of Patrick and Richie's happiness, including issues with race and class, as well some very bad timing. When the show was cancelled after Season 2, it looked like Looking fans would never find out what happened between the two. Luckily, HBO ultimately produced a finale movie, including an especially happy ending for all the shippers out there like me.
Stef and Lena Foster (The Fosters)
The Fosters premiered in 2013 on Freeform, featuring a multi-ethnic, blended family. In addition to referencing the foster system, the show's title is actually the last name of the family's two matriarchs, Stef and Lena Foster, played by Teri Polo and Sherri Saum. The couple manages to keep their family bonded through love, and show what power and capability same-sex parents can have. Additionally, they are notable for showing an interracial lesbian relationship on television, especially on a family friendly network like Freeform.
The Fosters ended after five seasons on the network, which is an impressive run for any show. Stef and Lena showed the power of communication and empathy throughout the run, dealing with the various plot twists and dramatic turns that The Fosters portrayed. This healthy partnership no doubt affected their children, who come from different cultural backgrounds. They're a same-sex TV couple for the record books, one that no doubt helped to open minds during the show's run.
Patrick and David (Schitt's Creek)
Schitt's Creek was a sleeper hit on Pop, with the show becoming a massive hit during its last few seasons on the air. The comedy followed the lives of the formerly wealthy Rose family, who lose their money and have to live in a motel in the show's titular town. Chief among them was David Rose, played by creator/writer/showrunner Dan Levy. David and his family slowly learn to grow, with David having his first adult relationship after meeting Patrick (Noah Reid).
This relationship is notable because it's never met with any real strife. While they sometimes have their struggles, and Patrick actually comes out throughout the course of Schitt's Creek, there's never any hate or cruelty on the series. Additionally, David's characterization made history for representing the pansexual experience, with the character explaining what his identity means in simple terms that can help educate audiences. Finally, Schitt's Creek's final season was centered around David and Patrick's wedding, with images of the two men kissing being prominently featured in billboards. This made history in terms of visibility, and put the show's message of love and acceptance front and center.
Nomi and Amanita (Sense8)
The Matrix visionaries, The Wachowskis, went to streaming with their sci-fi Netflix series Sense8. The show focused on a group of characters around the world, whose minds, feelings, and thoughts are connected. The show was celebrated for its extremely diverse cast, which included a few notable same-sex relationships. But, perhaps the most significant is Nomi and Amanita, played by Jamie Clayton and Freema Agyeman respectively. Throughout Sense8's two seasons and final movie event, the characters showed a never ending devotion for each other, despite the chaos constantly surrounding Nomi's cluster.
Nomi and Amanita's love is a powerful one, with Lana Wachowski and company prominently featuring an interracial, trans love story. The pair's differences are what make them such a strong couple, as they advocate for each other and display fierce loyalty. While every member of Nomi's cluster has their own love interest(s), she and Amanita are never really separated throughout the show's events. What's more, the Sense8 movie ultimately ends with their marriage... and a telepathic orgy. If you watch the show you get it.
Sol And Robert (Grace and Frankie)
One of Netflix's first original programs is the comedy Grace and Frankie, which premiered back in 2015. Starring legends Jane Fonda and Lily Tomlin, the show has already run for a whopping 6 seasons on the streaming service. It follows its title characters, who are forced to support each other once their husbands leave them both, due to their secret love affair. Said husbands are Sol and Robert, played by the great Sam Waterston and Martin Sheen, respectively.
While Sol and Robert are originally the villains from Grace and Frankie's perspective of the events, their portrayal on the show is still largely positive. Their relationship shows something that is rarely portrayed onscreen: LGBTQIA+ people who come out later in life. Sol and Robert weren't able to live their truth until their third act, and are shown navigating through the queer community. They also have a healthy sex life at their age, something that is often missing in popular media. And while Sam Waterson and Martin Sheen are not queer themselves, seeing such legendary actors portraying the roles comes with the possibility of opening a few minds for Netflix subscribers.
This is obviously not a complete list of every single major same-sex couple in TV history, but shows the duos that I find the most ground-breaking and important. Did I miss some of your favorite onscreen couples? Let us know in the comments below. Be sure to check out our summer premiere list to plan your next binge watch.
Your Daily Blend of Entertainment News
Corey was born and raised in New Jersey. Double majored in theater and literature during undergrad. After working in administrative theater for a year in New York, he started as the Weekend Editor at CinemaBlend. He's since been able to work himself up to reviews, phoners, and press junkets-- and is now able to appear on camera with some of his favorite actors... just not as he would have predicted as a kid.