One Day At A Time Took Shots At Netflix In Season 4 Premiere On New Channel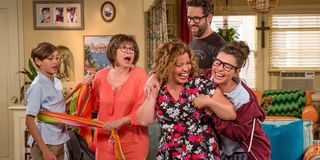 One Day at a Time is that rare television show that was initially cancelled by Netflix (after three seasons) before being picked up by another network. Historically, the situation is usually the reverse, with the streaming service swooping in to save the day, like it did with Lucifer and Designated Survivor. Now that One Day at a Time has found a home on Pop TV, the no longer cancelled series took shots at Netflix in the opening scene of its Season 4 premiere.
It seems like it's been ages since fans have seen the beloved Alvarez family. After three seasons, the critically-acclaimed One Day at a Time built up an incredibly passionate fanbase that waged war on Netflix after the streaming service cancelled the sitcom last March. Months later, the series was picked up by Pop TV, which is home to the popular sitcom Schitt's Creek. With the series set to debut later this month, a clip from the Season 4 premiere was released on Twitter. Asked if he'd decided what the family would be watching, Alex responds with a dig at the streamer. Watch the full clip below!
Personally, I think it's a relatively minor jab at the streaming service, all things considered. The line is smooth and was seamlessly added into the scene without it feeling like it was out of nowhere. With that said, the sting of cancellation does seem like it's still there and understandably so. The land of television is a tough business to navigate and no show is guaranteed another season — unless they're NBC's New Amsterdam or Law & Order: SVU, both of which have been renewed for several more seasons. However, I'd venture to say that One Day at a Time was cancelled too early, so it's nice to know that it could thrive elsewhere.
The clip also includes Everybody Loves Raymond alum Ray Romano, who appears in a guest role. The scene reveals that he's a census employee, dropping in on the Alvarez family to collect information. It seems One Day at a Time is carrying on the tradition of bringing in well-known actors to guest star on the show.
The Season 3 premiere famously included Brooklyn Nine-Nine's Melissa Fumero and Stephanie Beatriz, as well as the inimitable Gloria Estefan as Lydia's sister Mirtha. It makes me wonder who else fans can expect to pop in during Season 4, and we won't have to wait long to find out.
One Day at a Time Season 4 is set to premiere on Tuesday, March 24 at 9:30 p.m. ET on Pop TV. For more on what to watch, be sure to check out our 2020 midseason schedule for updated premiere dates and times.
Your Daily Blend of Entertainment News
Thank you for signing up to CinemaBlend. You will receive a verification email shortly.
There was a problem. Please refresh the page and try again.