Batwoman Showrunner Tries Soothing Fans Worried About Kate Kane After Ruby Rose's Exit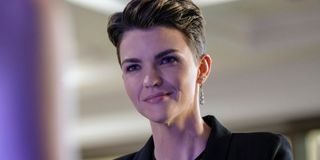 In the immediate aftermath of Ruby Rose's shocking departure from Batwoman ahead of Season 2, it was assumed that the character of Kate Kane would simply be recast. Shortly after, it was announced that the role of Batwoman would be played by a new character, needlessly complicating the show even further. Most recently, Batwoman showrunner Caroline Dries tried to soothe fans who were worried about Kate Kane after Rose's exit.
With Kate Kane being replaced entirely by a character named "Ryan Wilder," many wondered how Batwoman would proceed. Would Season 2 wipe the slate clean or would the series pick up where it left off in the Season 1 finale? These questions have no answers yet, but a rumor began circulating that Kate would be killed off in Season 2. However, the rumor prompted Caroline Dries to post a message to Twitter assuaging worried fans about Kate's fate. Here's what she wrote:
Well, that's good to know! I think it's important that Caroline Dries addressed the rumors. Had Batwoman actually killed off its Season 1 protagonist, I think it would've been a bad idea. It's bad enough Kate is being replaced instead of recast, but I digress. Dries went on to say that upholding "LGBTQ+ justice" onscreen was important to the Batwoman team. You can read Caroline Dries' full message below!
Aside from the seeming reassurance that Kate Kane wouldn't be killed off the show, Caroline Dries teased the first major clue we have about how Batwoman will handle Kate's absence in Season 2. It sounds like she'll pull a disappearing act a la cousin Batman, though I'm sure that Kate's sudden departure from Gotham City will be more central to the season's mystery. I'd wager she was kidnapped, but that's just speculation.
In recent days, Caroline Dries opened up about filling the hole left by Ruby Rose's exit from Batwoman. The showrunner confirmed that this "Ryan Wilder" was a "whole new character" who was inspired by Batwoman during her run as the scarlet knight.
The way Caroline Dries framed it, however, made it seem like this character was invented specifically to replace Batwoman, as opposed to bringing on an established comic book character. It's no wonder fans were worried about the direction of the show and Kate Kane's legacy following Rose's exit. That said, disappearing is better than dead, so I'll take that crumb.
Batwoman Season 2 is scheduled to premiere in midseason 2021. For more on what to watch in the meantime, be sure to check out our 2020 summer TV premiere guide.
Your Daily Blend of Entertainment News
Thank you for signing up to CinemaBlend. You will receive a verification email shortly.
There was a problem. Please refresh the page and try again.