What Ruby Rose Is Doing Next After Her Batwoman Exit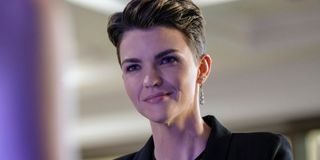 After one season and two crossovers, Ruby Rose parted ways with the Arrowverse's Batwoman. Her shocking exit was followed by reports that she was allegedly unhappy with the grueling filming schedule and location, but that the decision to leave was reportedly not entirely up to her. The role of Kate Kane/Batwoman was being recast ahead of Batwoman Season 2 on the CW. Now that she's no longer playing a superhero, however, what's Rose doing after her Batwoman exit?
The Australian actress has been keeping busy. Prior to playing Batwoman, Ruby Rose was in The Meg, a sci-fi horror film she starred in alongside The Office vet Rainn Wilson and Jason Statham. Now that Rose will arguably have more time on her hands, some of the projects that she's been working on include movie work and even some Shakespeare.
A Virtual Reading Of Shakespeare's Twelfth Night
Ruby Rose recently joined a star-studded cast, including Never Have I Ever's Maitreyi Ramakrishnan and Rose's former Batwoman co-star Nicole Kang, for a virtual reading of William Shakespeare's play Twelfth Night. The live-stream reading took place on Friday, May 22 on YouTube and benefited Acting for a Cause, a charity organization raising money for a hospital in Chicago.
Ruby Rose played Viola. Ship-wrecked and separated from her twin brother Sebastian, Viola pretends to be a boy named Cesario to get a job. For the role, Rose started off wearing a blonde wig as Viola before taking it off to reveal her newly dyed hair when reading as Cesario.
Batwoman And Jamie Fraser Join Forces In SAS: Red Notice
After filming her introductory appearance in the "Elseworlds" Arrowverse crossover, Ruby Rose headed across the pond to Europe to film the movie SAS: Red Notice. The action thriller sees Rose starring alongside Outlander's Sam Hueghan, Andy Serkis, and Tom Wilkinson.
After a group of hijackers threaten to blow up the Eurostar train beneath the English Channel, the SAS operator (Hueghan) must work to stop them and save 400 hostages. The film wrapped production in February 2019, but doesn't yet have a scheduled release date. It's also worth noting this movie is different than Netflix's Red Notice, starring Dwayne Johnson, Gal Gadot and Ryan Reynolds.
Ruby Rose Plays Ex-Marine Officer In Doorman
In Doorman, Ruby Rose stars as a former Marine-turned-doorwoman whose attempts at a normal life are thwarted when her workplace is attacked by mercenaries. The film was directed by Midnight Meat Train's Ryuhei Kitamura. The film is reportedly in post-production, but Doorman doesn't yet have a release date.
Ruby Rose Gets Animated In Cranston Academy: Monster Zone
In the animated horror-comedy, Ruby Rose voices the character of Liz, a 15-year-old high school student who assists her rival after he unleashes monsters from another dimension. Cranston Academy: Monster Zone was supposed to be released in Mexico in November 2019, but has been postponed, although the animated film opened in Portugal in March 2020.
I'm sure Ruby Rose will have a lot more projects lined up in the future, so stay tuned to CinemaBlend for updates. In the meantime, Batwoman fans can still watch Rose as the titular heroine over on The CW's website and app, where all 20 episodes of Season 1 are available to stream.
Your Daily Blend of Entertainment News