Batwoman Has Big Plans For Hush In Season 2, But Will They Change After Ruby Rose's Exit?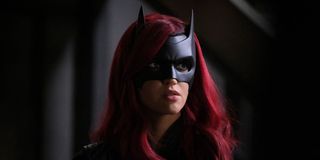 Introduced as a rich realtor whose sole purpose in life was to be better than Bruce Wayne, Tommy Elliot, aka Hush, was clearly obsessed with all things Batman. At the end of Batwoman's Season 1 finale, Alice bestowed Tommy with Bruce's face so that he could walk right into Wayne's company and retrieve the kryptonite Alice so badly wanted. Batwoman showrunner Caroline Dries revealed some big plans for Hush in Season 2. But, could those plans change following Ruby Rose's departure from the show?
Batwoman Season 1 was seemingly building up to a major confrontation between Kate Kane and Hush, but the freshman superhero series was cut short due to Hollywood-wide production shutdowns and lost out on two episodes. That said, the unintended season finale cliffhanger still worked in Batwoman's favor and hinted at even bigger things to come for Tommy Elliot's version of Bruce Wayne. Caroline Dries spoke about some of the Season 2 challenges he might be facing now that he's masquerading as Gotham City's millionaire playboy. Here's what she told TVLine:
It sounds like Tommy will have to be mighty careful if he plans on pulling off his Bruce Wayne impersonation well enough to go undetected. Now that he has a new face, will Tommy even want the old one back? Gabriel Mann was such a great addition to the season that it'd be a shame if he never showed back up. Here's what Dries had to say on whether we've seen the last of Mann as Tommy:
It's been just a few short days since we learned Ruby Rose was stepping down from her part as Batwoman. The role will be recast ahead of Season 2 and given a lot is in flux right now, it's possible that the dynamic with Hush could be tweaked to suit whatever storyline the writers will need to come up with to mask Rose's exit.
However, Hush's storyline might stay the same and only Kate's will change. It's also possible that the writing will ignore the fact that someone else will be playing the character at all, and carry on like nothing's happened. It wouldn't be the first time a TV show has done it, either. Of course, that's all speculation at this point and there's no way of knowing for sure how Ruby Rose's departure will impact Batwoman in Season 2 until it's confirmed by the series' creative team and producers.
Stay tuned to CinemaBlend for updates. Season 1 is currently available to watch on The CW's website. Batwoman Season 2 is scheduled to premiere in January 2021, alongside The Flash, Black Lightning, and freshman Arrowverse series Superman & Lois.
Your Daily Blend of Entertainment News
Thank you for signing up to CinemaBlend. You will receive a verification email shortly.
There was a problem. Please refresh the page and try again.