Batwoman: 6 Actresses Who Could Replace Ruby Rose In The CW Series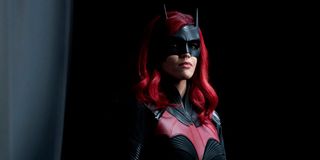 In an unprecedented move, Ruby Rose exited Batwoman after just one season and it was confirmed that the role would be recast for Season 2. Her departure marked the first time in Arrowverse history that a lead was being replaced and the announcement shocked many fans. It was initially reported that Rose was allegedly unhappy filming such long hours and that the decision to part ways with Batwoman wasn't entirely up to her.
However, the actress recently addressed her departure from the Arrowverse, revealing that staying silent was her "choice for now." Ruby Rose conceded that it wasn't an easy decision to leave Batwoman behind, but that "those who know, know." The implication is, of course, that there's more to the story, though nothing has been confirmed.
Since the announcement of Ruby Rose's exit, many have likely been wondering who would be cast in her place. The CW is still looking to find an actress who is a member of the LGBTQ community. Keeping in mind that the act of physically changing someone's face is canon on The CW series, Kate's face change could be recognized within the scope of the story or be completely ignored. Either way, here are six actresses who could replace Rose as Kate Kane on Batwoman.
Stephanie Beatriz
Stephanie Beatriz is best known for her role as Detective Rosa Diaz in the comedy series Brooklyn Nine-Nine. She's also starring in the upcoming Lin-Manuel Miranda musical In the Heights and has done voice work for Bob's Burgers and Netflix's BoJack Horseman.
Stephanie Beatriz was one of the first actresses to express interest in playing Batwoman and as soon as I saw it I thought it would be a brilliant choice. The actress is versatile, has the build, and acting chops to pull off the iconic role. As Rosa, Beatriz has shown she can be tough while also having a soft spot. She is also openly bisexual.
Evan Rachel Wood
The actress has had a long and storied career, but she's best known for playing Dolores Abernathy on HBO's hit show Westworld. Wood's other notable roles include voicing Elsa and Anna's mother in Frozen 2, a stint on HBO's True Blood, and starred in the movie Thirteen.
Evan Rachel Wood is openly bisexual and has identified herself as Jewish. That's important because Kate Kane is also Jewish and many fans have been clamoring to see that representation onscreen as well. Beyond that, Wood has tremendous experience carrying a show, is very talented, and would be a great fit.
Samira Wiley
Samira Wiley played the beloved Poussey Washington for four seasons on Netflix's Orange is the New Black, which also briefly starred Ruby Rose. Wiley's most recent roles include Hulu's The Handmaid's Tale, where she stars alongside Elisabeth Moss, and in the comedy series Ryan Hansen Solves Crime on Television.
Samira Wiley is openly gay and there's no doubt that she could pull off the role of Kate Kane. Wiley has shown great range and is capable of balancing dark and emotional material and humor. She also has a distinct and wonderful onscreen presence. Gotham City would be lucky to have her.
Jade Tailor
You might know Jade Tailor from her five-season stint on Syfy's The Magicians, where she played Kady. The actress also appeared in the 2017 sci-fi thriller called Altered Perception. Jade Tailor is no stranger to bizarre sci-fi stories and had plenty of action sequences on The Magicians.
Tailor has also expressed interest in playing Kate Kane on Twitter, explaining how she's already played a badass onscreen and would do so again as Batwoman. She even dropped a video of herself rehearsing a fight scene, so she's ready.
Sonya Deville
Daria Rae Berenato, better known as Sonya Deville, is not the traditional pick, simply because she isn't much of an actress. Deville is a wrestler and mixed martial artist who rose to fame on WWE's Tough Enough and in appearances on Smackdown. Deville is also the first openly gay female wrestler.
Sonya Deville has only appeared in a couple of projects outside of WWE, like 2013's The Honour, but she would surely nail the fight sequences so prevalent on Batwoman. And hey, if The Mandalorian's Gina Carano and Furious 7's Ronda Rousey could successfully transition from the world of MMA to having major careers in television and film, then there's no doubt that Deville could do the same.
Ashley Platz
The actress has spent most of her career in guest starring roles, appearing in The Bold Type as Kat's love interest, in Grey's Anatomy, Marvel's Agents of S.H.I.E.L.D., and Netflix's GLOW, among several other TV shows. Ashley Platz is probably best known for her role as Nurse Katie in the 2018 horror film Big Legend. Platz identifies as bisexual/pansexual and she's an actress with a lot to offer if given the chance.
It's probably a little known fact, but Ashley Platz actually auditioned to play Batwoman back in 2018. Her audition tape was posted on Twitter and drew a lot of attention. And honestly, I think she was pretty good. It's possible that The CW might cast someone from the pool of actresses who have already auditioned before. If that's the case, then Platz may actually have a chance, but only time will tell for now.
Batwoman Season 1 ended prematurely, but left off with an impressive cliffhanger that saw the villainous Hush gifted with the face of Bruce Wayne. However, fans will have to wait a bit longer to find out what happens because Season 2 isn't set to return until January 2021. That leaves plenty of time to cast an actress to replace Ruby Rose's titular character.
Of course, this isn't an exhaustive list, so who do you think should play Kate Kane/Batwoman? Let us know in the comments section!
In the meantime, stay tuned to CinemaBlend for updates on Batwoman and the casting process. While waiting for the show's return, be sure to check out our 2020 summer TV premiere guide for more on what to watch.
Your Daily Blend of Entertainment News
Thank you for signing up to CinemaBlend. You will receive a verification email shortly.
There was a problem. Please refresh the page and try again.