Celebrity Watch Party: Seriously, What The Hell Is Up With Ozzy Osbourne's Puppet?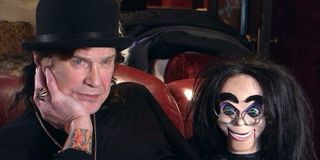 Warning! The following contains spoilers for the Celebrity Watch Party episode "It's A Party With The Fab Five." Read at your own risk!
I can take a lot of things from Celebrity Watch Party and even enjoy the weird act of watching a celebrity watch a popular show, but I can no longer ignore the fact that Ozzy Osbourne has frequently featured a doppelganger ventriloquist puppet since the series first began. I've waited weeks for an explanation and I'm at my wits' end.
At first, I thought maybe Osbourne was just showcasing how kooky he can still be despite his old age, and that this puppet would be hilarious for one episode and then fade away. Ozzy's puppet hasn't been in every moment of the Osbournes watching television, but as of this episode he's certainly been in it enough to be considered a recurring character.
Is it a bit that he's doing just for the show? My gut tells me no, only because Kelly and Sharon Osbourne seem so nonplussed by it that it almost feels like a common occurrence. If it's not a bit, how long has this been going on? I had to dig for answers, and they weren't easy to find. For anyone curious, here's the story I've found behind this puppet on Celebrity Watch Party.
The earliest information I could gather on the existence of this bizarre little totem is that Ozzy Osbourne was seemingly in the vetriloquist game at least as far back as 2007. Osbourne spoke about a puppet in an interview with SPIN magazine in 2010, and talked about the hidden passion the world at large didn't know about.
I have no idea if Lord Charles is the name of the puppet we see on Celebrity Watch Party, though there is some significance in Ozzy Osbourne naming his puppet that. Lord Charles was the dummy of famous British ventriloquist Ray Alan, who had actually died a couple months prior to that interview. Did Osbourne name his dummy (which probably never got to hang with Jeff Dunham) after Alan's as a tribute to the performer's legacy? It's possible, though I have no way of knowing without asking the Prince of Darkness himself.
About five years after that interview, Ozzy Osbourne made a post on Twitter. There was a situation going on in his house, and the puppet that may or may not be named Lord Charles was involved.
The doll has also been mentioned in professional music interviews like one Ozzy Osbourne did in 2018 with Revolver, and that's about all I can find on the internet. I have so many more questions, but honestly, I do feel somewhat content in knowing that Ozzy Osbourne's puppet is not just something he busts out for Celebrity Watch Party. That's enough for me to rest easy for now, though if next week Sharon and Kelly each have one I might just lose it all over again.
Celebrity Watch Party airs on Fox Thursdays at 8:00 p.m. ET. Continue to stick with CinemaBlend for all the latest news happening in television and movies in 2020 and beyond.
Mick likes good television, but also reality television. He grew up on Star Wars, DC, Marvel, and pro wrestling and loves to discuss and dissect most of it. He's been writing online for over a decade and never dreamed he'd be in the position he is today.
Your Daily Blend of Entertainment News
Thank you for signing up to CinemaBlend. You will receive a verification email shortly.
There was a problem. Please refresh the page and try again.