America's Got Talent Judge Heidi Klum Is Worried She Has Coronavirus But Can't Get Tested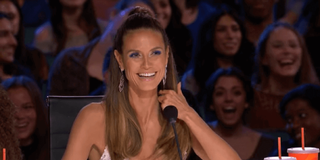 As the coronavirus pandemic continues to affect the country, multiple studios are either shutting down or suspending their TV productions until further notice. While Tom Hanks and wife Rita Wilson are currently being treated after testing positive for coronavirus while working in Australia, others haven't been so lucky in getting assistance. America's Got Talent judge Heidi Klum says she is worried she might have the virus, but, like so many in the U.S., hasn't been able to get tested.
Recently, Heidi Klum recorded a video that she posted to her Instagram story, explaining the reasons behind her absence from the show this past week. The judge stated that she is "not feeling good." Klum does look ill in the story, lying in her bed while speaking to her followers about her decision to "stay home to not infect other people." The America's Got Talent judge recently revealed (via People) that she's been experiencing a variety of symptoms, including a cough and runny nose. She says she is also "feeling feverish." As a precaution, Klum says she tried to get tested for coronavirus to be sure. However, she has been unsuccessful in her endeavor. In her words:
Well, that's alarming! Heidi Klum went home on Tuesday, opting to leave the America's Got Talent set because of her symptoms. She didn't return for the taping on Wednesday this week, so Modern Family star Eric Stonestreet stepped in to fill her role as judge. While she hopes her symptoms are just that of a normal cold and nothing more, she urges everyone to stay at home if they are not feeling well. It's definitely a smart call, considering that the virus continues to spread and how hard it has been to get coronavirus testing done in a timely manner.
What's more, America's Got Talent has followed in the same vein as other live shows, including The Late Show with Stephen Colbert, The Tonight Show Starring Jimmy Fallon, and HBO's Last Week Tonight with John Oliver, in going ahead without a live studio audience for the foreseeable future. With so many shows halting production and being cautious, these decisions are par for the course at this point.
Personally, I also hope that Heidi Klum is just experiencing a regular cold and that she feels better soon. In the meantime, it's for the best that Klum remains isolated at home until she is able to get tested for coronavirus.
The next season of America's Got Talent isn't scheduled to begin airing on NBC until the summer. Until then, be sure to check our midseason schedule for more on what to watch on cable and streaming platforms.
Your Daily Blend of Entertainment News