11 Spectacular Originals Arriving On Netflix In July 2020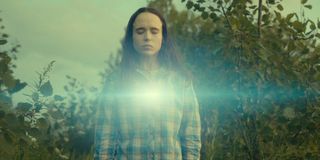 We've reached July, and under normal circumstances, this would be a time when many people might be spending less time in front of the television. Obviously circumstances have changed this year, and while there are some aspects of life in America returning to normal, some may find themselves with more TV time than expected.
Luckily, Netflix has plenty of spectacular shows on deck for July. This includes the return for one of the streamer's most popular shows, as well as some others that could be major hits on Netflix in the future.
Say I Do - 7/1
Netflix is kicking off July with a series that gives couples their dream weddings, which may be a sore spot for some friends and family. For anyone else wishing to see dream weddings at a time where wedding season is more or less cancelled, Say I Do is the perfect show. Hosts Jeremiah Brent, Thai Nguyen and Gabriele Bertaccini all come together for some weddings that look like the kind of affairs that most couples wouldn't get even in normal circumstances.
Unsolved Mysteries - 7/1
The classic unsettling series is back on Netflix, and it has a slew of new subjects looking for answers to big mysteries in their lives. For those unfamiliar, Unsolved Mysteries varies in subject matter from the subjects of true-crime to even the paranormal, and will surely give viewers a chill with the show's original producers teaming up with the same team behind Stranger Things. Expect the first six mysteries of this series at launch, and for some obsessed fans to surface with theories in the weeks that follow.
Warrior Nun - 7/2
Warrior Nun may not be entirely what you think based on the title. An orphaned teen awakens in a morgue to discover she has superpowers, and is now the "Halo-Bearer" for a "secret sect of demon-hunting nuns." To me it sounds like Buffy The Vampire Slayer with habits, but I guess that could be true of any show with a female lead who hunts hell spawn. In either case, this sounds like a fun ride based on the title alone, and certainly worth at least a watch for one episode.
The Baby-Sitters Club - 7/3
The Baby-Sitters Club has a new series on the way, and while it isn't tied to the original television show, this update does stay true to the characters of the books. Kristy Thomas, Mary Anne Spier, Claudia Kishi, Stacey McGill, and Dawn Schafer all return to form a babysitting service in Stoneybrook, Connecticut. Alicia Silverstone is along for the ride as the mother of Kristy, and author Ann M. Martin is on board as a producer. This should be a great watch for the family, and hopefully a show that gets a longer run than the 13 episodes the '90s version got.
JU-ON: Origins - 7/3
JU-ON is the Japanese horror franchise that was adapted to American audiences as The Grudge, and has had some follow-up films. Given the sheer amount of sequels JU-ON has gotten in Japan, I'd argue the original has gotten better reception there. Now Netflix is giving American audiences a chance to get in at its ground floor of the Japanese tale with JU-ON: Origins. A paranormal researcher is sent to to investigate the paranormal phenomena at a home where a mother and child had unspeakable things happen to them. I have high hopes for this one, and think anyone who wants to give this story another shot should jump in when this arrives.
Southern Survival - 7/3
When faced with a life-or-death situation, the right tools can make all the difference for someone fighting to survive. The Battlbox crew has made it their mission to test the various life-saving products on the market in extreme ways, and make a determination on just how effective these products are. To me, Southern Survival sounds like Mythbusters with an emphasis on survival situations, and sounds like a series that will gain some quick fans if that ends up being the case.
Down To Earth With Zac Efron - 7/10
Is there anything more appealing than the idea of traveling the world with Zac Efron? For anyone who felt that first statement at their core, Down to Earth with Zac Efron will be the ultimate travel show. In this Netflix original, Efron travels the world with wellness expert Darin Olien in search of healthy and sustainable ways to live. Sounds like a better premise than that show that could've cost him his life, and certainly less stressful!
Inside The World's Toughest Prisons (Season 4) - 7/29
Journalist Raphael Rowe is back, and he's ready to go back behind bars as an inmate in some of the toughest prisons around the world. This season, viewers can expect trips to prisons in Paraguay, Germany, Mauritius and Lesotho, and presumably lots of incentive to stay on the straight and narrow when vacationing abroad. Not that many of us need the threat of prison life for that, but anyone will be on their best behavior after seeing the life that could await them elsewhere should they cause some trouble.
Transformers: War For Cybertron Trilogy - 7/30
The Transformers franchise has hit a bit of a decline in terms of critical acclaim in theaters, but its reputation could be drastically uplifted soon with this promising anime. Transformers: War for Cybertron Trilogy chronicles the war between the Autobots and Decepticons as they battle for control of the AllSpark. This series is meant to serve as the origins of the franchise, and hopefully may lead to some more awesome anime with the Transformers!
Sugar Rush: Extra Sweet - 7/31
One of my favorite cooking competitions is back with a new version! Sugar Rush: Extra Sweet promises more sweet treats, and more teams battling for bigger prizes. All the judges from prior episodes of Sugar Rush will surprise, and yes, that includes insane dessert maker Adriano Zumbo. Personally, this is the type of show that I love to watch when I'm eating a lesser dessert, if only to imagine the Twinkie in my hands is just as good as the dazzling cake shown on screen.
The Umbrella Academy (Season 2) - 7/31
Netflix literally saved its best for last for July, and while that may be disappointing to some fans, it gives anyone who missed Season 1 of The Umbrella Academy a chance to binge all month ahead of this debut. The Umbrella Academy was one of my favorite shows of 2019, and I can't wait to see how this ragtag bunch of siblings come together after that WTF ending. Here's hoping Season 2 can deliver an equally satisfying season!
Be sure to catch all these originals this July on Netflix (opens in new tab). As always continue to stick with CinemaBlend for all the latest news happening in television and movies.
Mick likes good television, but also reality television. He grew up on Star Wars, DC, Marvel, and pro wrestling and loves to discuss and dissect most of it. He's been writing online for over a decade and never dreamed he'd be in the position he is today.
Your Daily Blend of Entertainment News
Thank you for signing up to CinemaBlend. You will receive a verification email shortly.
There was a problem. Please refresh the page and try again.