The Umbrella Academy Star Reveals The Amusing Way The Show Is Wrapping Season 2 In Quarantine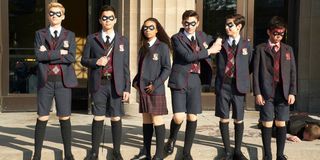 Viewers have been patiently waiting for more information regarding The Umbrella Academy Season 2. The first posters for the series' sophomore season were released a couple of months ago, but no premiere date has been announced. Netflix suspended filming on all productions due to pandemic concerns last month, including Season 2 of The Witcher. However, it seemed The Umbrella Academy was still moving forward despite the shutdowns and one of the stars recently revealed the amusing way the show is wrapping Season 2 while in quarantine.
The production shutdowns, while necessary, heavily impacted hundreds of TV shows. Series on traditional networks seem to have been affected the most, with shortened or delayed seasons shaking up their season-long storylines. Luckily, The Umbrella Academy Season 2 wrapped filming last November, but the shutdowns did affect post-production. That said, it seems the show's sound team came up with a clever way for the actors to do ADR from home and Justin Min (who plays Ben Hargreeves) posted to his Instagram about having fun while working in his closet. Here's what he wrote:
That's pretty smart and allows for The Umbrella Academy team to finish up work on Season 2 safely and remotely, with the cast re-recording necessary dialogue in makeshift home studios. Justin Min found a way to make it entertaining by snapping several pictures of himself from inside his closet, clothes hanging in the background. I'd imagine that Min must've had the closet door open while taking the pictures because the light is just way too good for such an enclosed space! You can check out the actor's full post and closet photoshoot below.
The last viewers saw of the Hargreeves siblings, they had time traveled too far back in an attempt to stop the apocalypse from happening. And so, Season 1 ended with the dysfunctional family reverted back to being teenagers, a plot twist that even managed to surprise the cast. I'm looking forward to seeing where the series goes in Season 2 and whether the characters will manage to circumvent the apocalypse the second time around.
That said, Ben was already dead in Season 1 and his demise was one of the show's biggest mysteries. Maybe Justin Min's return means his character will play a bigger role. Did time travel bring Ben back or will the Hargreeves finally find out what happened to him? We'll have to wait to find out.
The Umbrella Academy Season 2 does not yet have a scheduled release date, but stay tuned to CinemaBlend for updates. Fans can still revisit Season 1 on Netflix while waiting for the next installment. For more on what to watch in the coming weeks, be sure to check out our list of all the big TV finales airing this spring and summer.
Your Daily Blend of Entertainment News