6 Excellent Netflix Original Streaming Shows That Not Enough People Talk About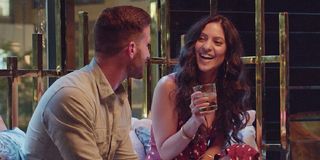 Over the last several years, Netflix's library of original TV shows has grown to include an array of popular offerings. The Witcher, GLOW, and Dead to Me are just a few of the series that have been lauded by critics and viewers alike. The streaming service started on a smaller scale back in 2013, with original series Orange is the New Black and House of Cards making up the majority of its repertoire.
Suffice it to say that the number of Netflix originals has grown exponentially since then, almost to the point where it's hard to keep up with the amount of streaming shows premiering every month. What that basically means is there are plenty of great TV shows that premiere and go overlooked and underappreciated. And so, here are six excellent Netflix original streaming shows that not enough people talk about.
Lovesick
The series follows Dylan who, after contracting chlamydia, has to call each of his previous sex partners to let them know. However, the main story is about Dylan's quest for love -- and all the embarrassing and defining moments from past relationships -- that make up that journey toward falling in love with best friend Evie (played by The Good Doctor's Antonia Thomas).
Originally called Scrotal Recall (a name I think would've been fun to keep), the charming British sitcom initially aired on the UK's Channel 4 before being picked up by Netflix for its final two seasons. Lovesick is sweet, filled with plenty of quippy humor and moments of genuine friendship. It's also full of unrequited love that's bound to make you smile (and also stress you out).
Sense8
Sense8 was one of the first sci-fi originals to air on Netflix and has amassed a bit of a cult following online. However, most Netflix subscribers never seemed to have caught on to this uniquely told, diverse, and progressive show that covered topics like politics, gender, and religion that other sci-fi series rarely delve into.
Created by J. Michael Straczynski, and Lilly and Lana Wachowski (who are best known for directing The Matrix and its sequel movies), Sense8 is about a group of eight individuals who suddenly find themselves psychically linked to each other. If you're down for high-concept sci-fi, then Sense8 is definitely the right fit for you. The series was cancelled after just two seasons, though it did get a two-hour conclusion to wrap up its storylines.
Gentefied
This gem of a series premiered in February, but it flew under the radar for the most part. Gentefied tells the story of three Mexican-American cousins living in Los Angeles. While they're all dealing with a myriad of changes in their own lives and relationships, they're working to save their grandfather's taco shop from going under in an increasingly gentrified neighborhood.
The family comes up with every plan imaginable to save the shop and learn a lot of lessons on the way. Executive produced by Superstore's America Ferrera, Gentefied explores bicultural identity, class, stereotypes, and familial dynamics with a lot of heart and awareness. At its core, it's a family sitcom that is incredibly poignant, thoughtful, and funny.
I Am Not Okay With This
I Am Not Okay With This is an immensely overlooked series. Released in February, the series is stuck in limbo and has yet to be renewed or cancelled by Netflix. While it's set in the present day, the show has a very distinct 1980s vibe that can be easily compared with Stranger Things. However, that's where the similarities pretty much end.
Based on the comic book by Charles Forsman, I Am Not Okay With This is a coming of age story about Sophia Lillis' Sydney Novak, an awkward teenager who's grappling with her sexuality, family life, and high school. On top of all that, Sydney must contend with the development of her mysterious and uncontrollable telekinetic powers. I Am Not Okay With This masters the element of surprise, balancing heartfelt character beats with sci-fi twists. Season 1 ends with a horror-esque cliffhanger that will definitely leave you wanting more.
Dating Around
While everyone was busy watching Too Hot to Handle and Love is Blind, Dating Around has gone overlooked, quietly releasing two seasons on Netflix without much fanfare. It's a shame considering that it's the best reality dating show that the streaming service has to offer. That's just my opinion, so feel free to debate.
That said, Dating Around has quite a lot to offer. Each episode centers on an individual who goes on six different dates and can pick only one of the six to go on a second date with. It hits the nail on the head regarding how awkward first dates can be, while also conveying all the endless possibilities of connecting with someone on a deeper level in hopes to build a future relationship. Dating Around also boasts a racially diverse cast of people and spotlights the LGBTQ+ dating scene as well.
Dear White People
The Justin Simien-created series is probably one of most underappreciated shows on Netflix. The series, which is based on Simien's indie film, follows a group of Black students and their experiences attending a predominantly white Ivy League school. That description doesn't begin to scratch the surface of what this show is all about or how good it is.
Dear White People tackles the use of blackface and other topics ranging from sexual assault to racial bias and gaslighting. What's more, it handles all of these issues with a good amount of depth. Starring a great ensemble cast, including Logan Browning and American Horror Story alum DeRon Horton, Dear White People balances social justice with beautifully developed characters and friendships. The series has been renewed for a fourth and final season, though it hasn't begun filming just yet.
Of course, you can head on over to Netflix to binge watch all of these great shows. There are plenty more options coming to the streaming service, so be sure to check out our complete list of every TV show premiering on Netflix in 2020. Hopefully, there will be time to watch them all!
Your Daily Blend of Entertainment News