5 Netflix Series To Watch While Waiting For Lucifer Season 5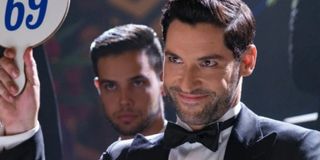 You've got to give the devil his due...his due time, that is. Specifically, we still have months to wait before Netflix unveils Lucifer Season 5, the newest — and currently final — season of the supernatural crime dramedy. The streaming service's renewal only increased notice and interest in the show following its Fox cancellation, but Lucifer will soon come to an end with a 16-episode season expected in 2020. That leaves lots of fans eager to discover what's in store for the devilishly captivating LAPD consultant. But fear not, for there are other Netflix shows to keep audiences preoccupied.
While [Lucifer](https://en.wikipedia.org/wiki/Lucifer(TVseries) might not be exactly the same as other TV shows at the moment, streaming or otherwise, there are several Netflix series that might win over the same crowds. With Netflix churning out a wide berth of original content on a weekly basis, there's no shortage of other shows to be watched on the streaming service, and we've rounded up a handful that might appeal to you if you enjoy Lucifer's devious charms. We'll also open up the possibilities to shows that are currently on Netflix, and not solely Netflix originals. It seems fitting since Lucifer was once a network series itself.
Before we get ahead of ourselves, though, we should also make a note that there are a great number of other shows on other streaming networks like Amazon's Good Omens, Starz's American Gods or AMC's Preacher that you also might enjoy if you're a big fan of Lucifer. But for this particular list, keep in mind that we're limiting the criteria to just Netflix shows.
Chilling Adventures Of Sabrina
Similar to Lucifer, Netflix's Chilling Adventures of Sabrina is based on a comic book series that was originally set up with a linear network; in this case, it was The CW. But similar to Lucifer, this take on the popular witch character is notably not afraid to harken the devil and Satanism, and it was a bit of a gamble for The CW to put it on the air alongside its comic-influenced cousin Riverdale. Over on Netflix, Sabrina has become a pulpy and enjoyably invigorating new live-action take on the character that is notably quite different in visuals, mood and tone from the original lighthearted Sabrina the Teenage Witch show.
Currently, there's only one season of Chilling Adventures of Sabrina, although the first season is broken up into two parts, with an added holiday special to boot. The show has generally been met favorably by fans and critics (at least, those who are not too passionate about the original series to accept this new version's bold new take). In particular, Sabrina has been praised for Mad Men vet Kiernan Shipka's performance in the title role. The show shares a similar interest in horror and the supernatural to Lucifer, even though it does not have quite the same sense of cheeky humor. Nevertheless, if you're looking to get back into some dark magic, Sabrina is certainly one bewitching choice.
iZombie
If you tend to like your police procedural shows with a supernatural twist, you should give iZombie a watch. Similar to Lucifer, it takes an unusual twist with the crime-solving angle, with a central lead who's a literal zombie that uses her connections between the living and the dead (as well as her initiate desire to eat human brains, naturally) to solve murders. While the title of the show is admittedly a bit silly, iZombie has built up a hardcore fanbase that love the balance between comedy, drama and character beats. Oh, and disgusting gore.
While iZombie aired on The CW up until its recent series finale in August, all of its episodes now have a comfortable home on Netflix, where all five seasons are available. As you would expect, the show has built an even bigger group of fans through the streaming service, much like Lucifer.
The Umbrella Academy
Based on a comic book of the same name by Gerard Way and Gabriel Ba, The Umbrella Academy may have fallen under the radar compared to some other fantastical Netflix originals, but it might be worth it for Lucifer fans to check out. The acclaimed show follows a dysfunctional family of adopted sibling superheroes who find themselves working together to solve the mystery of their father's death. Not to mention an impending apocalypse.
Featuring a talented ensemble that includes Ellen Page, Tom Hopper, David Castañeda, Emmy Raver-Lampman, Robert Sheehan, Aidan Gallagher, Cameron Britton, and Mary J. Blige, The Umbrella Academy is a show that shares a dark sense of humor with Lucifer, along with plenty of other fantasy and comic elements. It might not be as direct a comparative project to Lucifer as some of the other shows listed here, but there's certainly some crossover appeal. One season is currently available for The Umbrella Academy, though it was renewed for another that is expected to arrive sometime next year.
Supernatural
Once again, Supernatural is a show whose foundation was laid in network television, and marks another show from The CW's line-up. The long-running fantasy-horror drama has seen its already passionate fanbase grow even more thanks to seasons streaming on Netflix, and it has all of the elements that make Lucifer such a compelling series. Specifically, it has supernatural elements, comedy, horror, mystery, intrigue, drama and action. Admittedly, though, it's not a series you'll binge-watch overnight.
Supernatural is currently set to debut its 15th (!!) and final season, which is expected to premiere on The CW on October 10th. That's a hell of a lot of TV, so one should be committed to the long haul if there are plans to watch. But hey, if you get hooked, it'll be a while before you need something else to pay attention to, and that extensive back catalog of episodes will certainly help eliminate the hours leading up to Lucifer's fifth and final season debut.
Sex Education
Admittedly, Sex Education is not the type of show you would expect as a recommendation for Lucifer. But if I might be so blunt, both of these shows share a keen interest in "extracurricular activities." And by that, I mean sex, and lots of it. Both shows ooze mojo and hormones, and they're not shy about the oozing. Lucifer, specifically, has been a lot more willing to indulge its R-rated side in Season 4, thanks to the lack of restrictions from Netflix. If you have been enjoying the naughtier, more crass material found in Lucifer's fourth season, you might find yourself endeared to this title too.
Sex Education is the newest series listed here, as it just started its first season in January of 2019. Nevertheless, its openly sexual content — along with cheeky sense of humor and mix of teen drama — certainly help to make this one an early success. It's already been renewed for a second season, which is expected to premiere sometime next year on the streaming service. So if you like the more, ahem, sinful aspects of Lucifer, you might find yourself enjoying the lessons being taught in Sex Education.
These are only a mere handful of the shows currently available on Netflix that might mesh well with Lucifer fans, and I hope they'll satisfy any anticipation and excitement that is building for the point when Lucifer unveils its final 16 episodes. There's a lot of time to wait, but the devil is in the details. Specifically, in the little shows you can find from Netflix's extensive archive of shows — both original to the streaming service and otherwise — that are available at the click of a button.
Your Daily Blend of Entertainment News
Will is an entertainment writer based in Pittsburgh, PA. His writing can also be found in The Playlist, Cut Print Film, We Got This Covered, The Young Folks, Slate and other outlets. He also co-hosts the weekly film/TV podcast Cinemaholics with Jon Negroni and he likes to think he's a professional Garfield enthusiast.
Your Daily Blend of Entertainment News
Thank you for signing up to CinemaBlend. You will receive a verification email shortly.
There was a problem. Please refresh the page and try again.