Thinking About The Witcher's Henry Cavill Rolling Around In Puddles While Playing Geralt Just Made My Day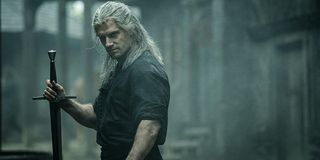 Henry Cavill truly felt like he was in his element playing Geralt of Rivia in Netflix's The Witcher. The actor is incredibly dedicated to the series and is himself a huge fan of Andrzej Sapkowski's books, which the show is based on (along with the video games). Exactly how committed to the role is Cavill? Well, let's just say that it involves the Man of Steel actor rolling around in puddles while playing Geralt. And now I can't stop thinking about it.
The Witcher's Henry Cavill has spoken about how he prepared for the role of Geralt; from crafting the character's unique accent to horse riding training, the actor has put in the work. Cavill recently spoke about the collaborative experience of working with showrunner Lauren Schmidt Hissrich to bring Geralt to life, as well as the extra steps he took to make the grunting character feel as authentic to the books as possible. Here's what Cavill told Vanity Fair about what he did to make Geralt look just a bit more dirty:
Well, now I'm imagining Henry Cavill rolling around and standing out in the rain, and it's really making my day. I think Cavill definitely succeeded in making Geralt look like he'd actually lived in the world. This is the guy who sleeps on the forest ground and jumps into swamps to defeat creepy spider-like creatures. I thank Cavill for his dedicated service in bringing Geralt to life in this way. More dirt in The Witcher Season 2, please!
The actor went on to say that he's thrilled everyone seemed to like how he portrayed Geralt in general. Henry Cavill even admits that he's "on all the Reddit forums" and he reads all of the reviews, all so that he can improve upon the character for Season 2 of the show. I think that's pretty impressive. Of course, not everything everyone says is necessarily helpful to Cavill, but it's great that he's willing to wade through the multitude of opinions regardless.
What's more, Henry Cavill adds that he approached the role of Geralt with "100% effort and dedication," and wants to make it clear that he loves the character just as much as fans do. If it takes him rolling around in more puddles to prepare for The Witcher Season 2, then I'm sure Cavill will do whatever it takes.
The Witcher Season 2 is set to resume filming on August 17, months after Netflix shut down production on the series back in March. The announcement came in an on-brand post that included a nice little rhyme. I'm looking forward to seeing what the show has in store for Season 2. That's not to mention the phenomenal new cast members who will be joining the series next season.
The Witcher Season 1 is currently available to stream on Netflix. Stay tuned to CinemaBlend for updates on the series. In the meantime, be sure to check out our complete list of Netflix shows premiering this year.
Your Daily Blend of Entertainment News