Here's The Witcher Star Henry Cavill Just Horsing Around With Roach For Season 2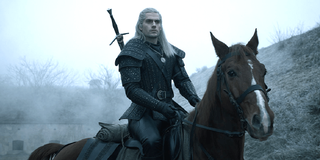 Henry Cavill seems to be enjoying his turn as Geralt of Rivia in Netflix's The Witcher, which recently confirmed seven new cast members for Season 2. He has truly dedicated himself to the role of Geralt, from crafting the character's unique accent to attempting to make the bathtub scene even more iconic, the actor is nothing if not committed. Now, Cavill is horsing around with his Roach co-star and training to ride different horses in preparation for The Witcher Season 2.
As fans of the Netflix series may know, Roach is Geralt's companion, and the witcher usually looks to his horse for comfort, often talking to Roach while alone (and he's alone a lot). In real life, however, Roach is played by a horse named Zeus and Henry Cavill posted a lovely photo alongside the horse and joked that Zeus should win an Oscar for his performance as a lady horse. Check it out below!
Henry Cavill, who claims responsibility for Geralt's grunting, has been undergoing horseback riding training to get a feel for riding a number of horses. The training is also his way to build up his experience with different horses in hopes to match Geralt's understanding of the animals. Here's what he had to say about his training:
In the same Instagram post about his riding training, Henry Cavill introduced Hector the horse and even warned fans that he'll be posting even more about the horses he's working with. Cavill hoped they'd appreciate all the "horse content." Personally, there can never be too many horse pictures and having Cavill posing alongside the magnificent creatures is just a bonus. Check out the actor's full post below!
Henry Cavill, who was recently everyone's Superman with a perfect Valentine's Day post, continues to offer fans brief updates on The Witcher Season 2, which went into production recently. Though there aren't very many details about the season, little tidbits and, yes, horse pictures, should be enough to tide fans over until Season 2 premieres on Netflix next year.
The Witcher Season 2 doesn't have a scheduled premiere date yet, but expect the season to premiere on Netflix at some point in 2021. In the meantime, be sure to check out our 2020 midseason schedule for updated premiere dates and time for cable and streaming shows.
Your Daily Blend of Entertainment News
Thank you for signing up to CinemaBlend. You will receive a verification email shortly.
There was a problem. Please refresh the page and try again.