Doom Patrol's Cyborg Is Ready For A Crossover With Another DC TV Show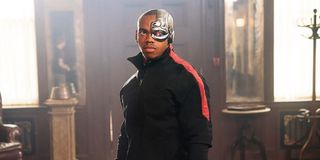 When Doom Patrol was first announced, Cyborg's inclusion on the show was a bit confusing, given that Titans also existed on the same streaming service). After all, Cyborg had always been a member of the Teen Titans first and foremost. Nonetheless, Cyborg's addition to Doom Patrol has been pretty great, but Joivan Wade is ready to interact with one character in particular in DC Universe's Titans.
Joivan Wade's Cyborg has been through a lot throughout the first two seasons of Doom Patrol. He's currently in the midst of dealing with past trauma and getting to know Roni Evers, a new character introduced in Season 2. However, Wade recently admitted that he'd love it if Cyborg, a.k.a. Victor Stone, and Titans' Beast Boy joined forces. Here's what Wade told ComicBook.com about his dream crossover:
It's true. Vic and Gar do have an iconic friendship in the comics, and it would be pretty amazing if they finally got to interact. I imagine it would be a lot of fun, too, given their long history. Think of all the shenanigans they'd get up to and the fantastic friendship they might have!
Interestingly, some of Doom Patrol's characters were first introduced in the first season of Titans, months ahead of the series' own Season 1 premiere in February 2019. Beast Boy actually used to live with the Doom Patrol before he went off to join the Titans. However, the Doom Patrol show takes place in a separate continuity from Titans, which means Vic may know a Beast Boy, but not the one from Titans. That said, Joivan Wade says that a crossover could still happen. In his words:
So Ryan Potter and Joivan Wade are friends in real life, too? This Titans and Doom Patrol crossover just writes itself at this point. I hope the writers, producers, and everyone at Warner Bros. "press the buttons" for this to happen. It would be a shame not to capitalize on such a historic friendship. For now, Cyborg is without his best buddy in Season 2 of Doom Patrol and we'll just have to wait and see what the future brings.
Doom Patrol Season 2 is currently airing weekly on HBO Max. Titans is set to return for Season 3 on DC Universe, though a premiere date has not been set. Stay tuned to CinemaBlend for updates. For more on what to watch, be sure to check out our 2020 summer TV premiere guide.
Your Daily Blend of Entertainment News
Thank you for signing up to CinemaBlend. You will receive a verification email shortly.
There was a problem. Please refresh the page and try again.