How Dwayne Johnson's Titan Games Compares To The Olympics, According To Gold Medalist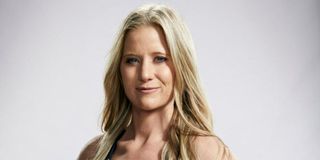 (Image credit: NBC)
Spoilers ahead for the July 13 episode of Titan Games Season 2.
The Titan Games is currently going strong in Season 2 on NBC, and host/creator Dwayne "The Rock" Johnson found an intense crop of competitors. The latest episode saw none other than formidable Olympic gold medalist Hannah Teter on board as a Pro Titan who would compete against one unlucky lady. As a snowboarder, Teter is more than at home on top of mountains, so she seemed like a shoo-in to dominate Mount Olympus. Surprisingly, Teter didn't come out on top in the July 13 episode, as active duty registered nurse Haley Johnson (no relation to The Rock) was the victor over the Olympian. Teter explained how Titan Games compared to the Olympics.
Speaking with TV Insider, Hannah Teter shared whether or not Titan Games was less of a challenge than the Olympics:
According to Hannah Teter, The Titan Games was more difficult than the Olympics because she could at least go into the Olympics knowing what to expect and how to tackle the challenges. The Titan Games obstacles require a variety of muscle groups, and not just dominance in one skill or sport. Haley Johnson surely wouldn't even come close to beating Teter on a snowboard, but she was well-rounded enough to defeat Teter on the Titan Games course.
While she didn't beat Haley Johnson, I doubt The Rock would say that Hannah Teter, who won a gold medal at the 2006 Winter Olympics and a silver a the 2010 Winter Olympics, let him down. Haley Johnson was dominant all night, and it looked like there was no stopping her. Teter may have lost, but I'm not sure anybody else in Season 2 could have beat Johnson in this episode. Besides, Teter didn't just arrive on the Titan Games set and assume that she didn't need to work on any skills because she was already a celebrated snowboarder. She jumped into training as well.
Hannah Teter focused on building her upper-body strength in training for her role as Pro Titan, since her snowboarding guaranteed that she had the leg muscles covered. She also ran sprints up mountains and visualized the course. Teter had already seen the show, and knew that it's "on another level." She said she knew going in that the female competitors "are buff, huge mega-monsters," so she didn't go into the show thinking she would easily defeat all the competition!
Take a look at Hannah Teter vs. Haley Johnson on The Titan Games:
Well, with the 2020 Summer Olympics postponed, at least The Titan Games delivered some Olympian action on NBC! Congratulations to Haley Johnson for defeating the mighty Hannah Teter, and kudos to Teter for putting up a fight in a competition that was outside of her comfort zone.
See what happens next on The Titan Games with new episodes airing Mondays at 8 p.m. ET on NBC. If you haven't caught the full second season, you can find all the Season 2 episodes so far streaming on Hulu. For more viewing options now and in the coming weeks, be sure to check out our 2020 summer TV premiere schedule.
Resident of One Chicago, Bachelor Nation, and Cleveland. Has opinions about crossovers, Star Wars, and superheroes. Will not time travel.
Your Daily Blend of Entertainment News
Thank you for signing up to CinemaBlend. You will receive a verification email shortly.
There was a problem. Please refresh the page and try again.