Renee Elise Goldsberry: 7 Cool Things To Know About The Hamilton Star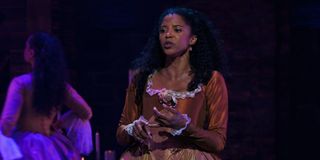 Lin Manuel Miranda filled the Hamilton cast with talented Broadway veterans, and some newbies, who were able to showcase their talents and just propel their careers even further. Names like Phillipa Soo, Leslie Odom Jr., Daveed Diggs, and Anthony Ramos are now household names thanks to the success of Hamilton. Renee Elise Goldsberry, who played Angelica Schuyler, had already been a well-known name in the Broadway circuit, daytime crowds, and among The Good Wife fans, but Hamilton helped bring her name to an even broader audience.
Renee Elise Goldsberry's Angelica is fierce, strong, and intelligent. She's also complex and vibrant, and much of the credit for this standout character goes to the writing team behind Hamilton, and Goldsberry's beautiful portrayal of her in Hamilton's original run and Disney+'s recorded live version being able to showcase it. Hamilton made me curious to know more about the "Satisfied" singer, and this is what I found out.
She Played The Final Mimi In Rent
Renee Elise Goldsberry already had an impressive Broadway resume prior to joining the Hamilton cast. She had played Nala in The Lion King on Broadway, originated the role of Nettie in the original production of The Color Purple on Broadway, and played Mimi in the final run of Rent. Goldsberry took over the role on June 16, 2008 and played Mimi until it ended on September 7, 2008.
Renee Elise Goldsberry also appeared as Mimi in the live recorded movie, Rent: Filmed Live on Broadway. As part of the AOL BUILD series, Goldsberry sat down to talk about her life, career, and much more. Towards the end of the interview, she mentioned how other Rent performers influenced her version of Mimi. She especially gave credit to Karmine Alers for influencing her Mimi moves.
She Almost Didn't Audition For Hamilton
It's hard to imagine a world where Renee Elise Goldsberry didn't tell us to "work." However, that was almost our reality. In an interview with Resident Publications, Goldsberry shared that she was on a hiatus from working because she had just adopted her daughter from Africa and wanted to spend time just being a mother. She had received an invitation to attend the Hamilton workshop but wasn't planning on going to it.
Then she listened to Lin Manuel-Miranda's demo version of "Satisfied," and knew she had to audition. Goldsberry also told Playbill that she was the only one, or at least one of the few, from the original cast who actually auditioned for her role. The others were sent invitations from the creative team because of Lin Manuel-Miranda working with them in the past or through the team seeing their previous work and believing they would be good fits for their roles.
Phylicia Rashad Is One Of Her Broadway Idols
In the same BUILD series interview, an audience member asked her about what person from the theatre world she idolized growing up. She said so many, but the one that popped into her head was Phylicia Rashad. She talked about watching her on The Cosby Show and dreaming one day of being able to do what Rashad has done in her career.
She called her just an example of a beautiful woman and even compared her to Angelica Schuyler. Goldsberry also gave Rashad more praise by saying that "you can't see her in the theatre and not be changed."
She Wants To Appear In Hamilton The Movie
From Tom Hooper's Les Miserables to Tom Hooper's Cats, Hollywood adapting hit Broadway musicals has been all the rage for many, many years. So it's not out of the realm of possibilities that Hollywood will try to get its hands on Hamilton. And thankfully, Goldsberry wouldn't be opposed to the idea of reprising her Tony Award-winning role. Collider asked Goldsberry about whether she would want to appear in a Hamilton movie.
This was her response:
If Hamilton does ever get a screen version, at least we know there is a chance the ghost of Renee Elise Goldsberry could appear in it. That's comforting.
She was Nominated For An Emmy Multiple Times
From 2003 to 2007, Renee Elise Goldsberry appeared on the ABC Daytime soap opera One Life to Live. She played Evangeline Williamson, a lawyer who eventually fell into a coma. This role earned Goldsberry two Daytime Emmy nominations for Outstanding Supporting Actress.
In many interviews, including the AOL BUILD one, she speaks fondly about her time on soap operas and credits it with helping her learn how to act. The intensity of the filming schedule gave her sort-of an acting boot camp.
She Thinks Henrietta Lacks' Story Is Just as Powerful As Hamilton's Tale
Alexander Hamilton is one of the founding fathers of the United States of America, so even if people didn't know his story before Hamilton, they at least knew that about him. However, only some people knew the story of Henrietta Lacks until the 2010 best selling book The Immortal Life of Henrietta Lacks came out. In 2017, Oprah starred in and produced a film version of the book. Both the book and movie brought Henrietta Lacks' story to a wider audience.
Renee Elise Goldsberry played Henrietta Lacks in the movie version of The Immortal Life Of Henrietta Lacks. During the time of the film's release, Goldsberry interviewed with Coveteur and made this comparison to the story of Hamilton and the story of Henrietta Lacks.
She continued by saying:
She Identifies With All Of Her Characters
Goldsberry discussed in multiple interviews how she tries to add a little bit of herself to every role. She also looks for reasons why people should root for her characters. When talking to BlackFilm.Com, she shared this insight about her characters (specifically her role in Waves):
Renee Elise Goldsberry brings many layers to all her characters, which makes her such an interesting actress and overall performer. If you want to see more Goldsberry, she's currently starring on Netflix's series Altered Carbon, which released its second season in May. Catch her as Angelica Schuyler in Hamilton on Disney+..
Your Daily Blend of Entertainment News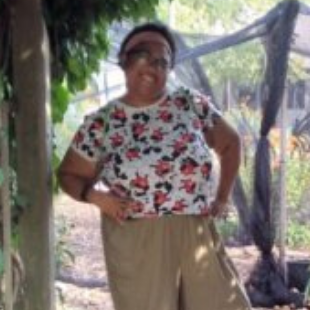 Spent most of my life in various parts of Illinois, including attending college in Evanston. I have been a life long lover of pop culture, especially television, turned that passion into writing about all things entertainment related. When I'm not writing about pop culture, I can be found channeling Gordon Ramsay by kicking people out the kitchen.