When Agents of S.H.I.E.L.D.'s Elizabeth Henstridge Realized Simmons' Influence As A Scientist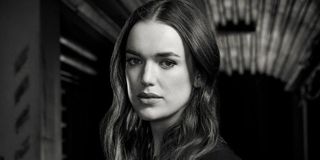 One of the biggest reasons Agents of S.H.I.E.L.D. fans have stuck with the show for seven seasons is that it's given us a set of diverse and multidimensional characters. One major character who's proven to be particularly complex is the team's resident scientist, Agent Jemma Simmons. Simmons' role has been pivotal on the show and an inspiration to women in science and those aspiring to get into the field, but actress Elizabeth Henstridge didn't immediately realize the influence of her role.
Elizabeth Henstridge explained that when she first took the role of Jemma Simmons, the significance of her character's job didn't immediately hit her. This was mostly because she relished the chance to just play an intelligent and confident character. However, she began to see Simmons' impact when she started attending conventions:
When hearing Elizabeth Henstridge's comments during Agents of S.H.I.E.L.D.'s Comic-Con@Home 2020 panel, one can't help but smile. It's always nice to see when fans connect with characters on a personal level, and the fact that Jemma Simmons has inspired and represented so many is a true testament to Henstridge and the show's writing staff.
Of all the characters on Agents of S.H.I.E.L.D., Jemma Simmons has had one of the most compelling journeys. The young S.H.I.E.L.D. operative was originally brought onto Coulson's team as a life sciences specialist, but her role would eventually test her in numerous ways. From going undercover within HYDRA to fighting to survive on an alien planet, Simmons has gone above and beyond for her team, especially best friend-turned-husband Leo Fitz.
The relationship between the two agents has been a vocal point of the show, but the two have never been defined by it. With this, Simmons has been able to flourish as a character whether Fitz is around or not.
Season 7 has been massive for both Elizabeth Henstridge and her character. Simmons has been a guiding light for the team, and her story has been one of the more heartbreaking arcs of the season. Meanwhile, Henstridge got to make her directorial debut with one of the final season's best installments. With only three episodes left in the series' run, we'll be watching intently to see how things pan out for our favorite S.H.I.E.L.D. scientist.
New episodes of Agents of S.H.I.E.L.D. air Wednesdays at 10 p.m. ET on ABC.
Covering superheroes, sci-fi, comedy, and almost anything else in film and TV. I eat more pizza than the Teenage Mutant Ninja Turtles.
Your Daily Blend of Entertainment News
Thank you for signing up to CinemaBlend. You will receive a verification email shortly.
There was a problem. Please refresh the page and try again.