Why Agents Of S.H.I.E.L.D.'s Chloe Bennet Was 'Less Focused' On Nostalgia While Shooting The Series Finale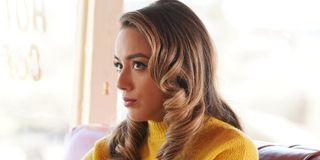 (Image credit: ABC)
Agents of S.H.I.E.L.D.'s final season has been an emotional experience, one that's certainly giving fans a bittersweet feeling. While the show is gradually wrapping up storylines and character arcs, it's also provided some fun moments and sweet tributes. Most of us knew nostalgia would likely be a major component of the new season, especially when you consider the fact that Phil Coulson and his fellow agents are currently traveling through time. However, nostalgia wasn't exactly on Chloe Bennet's mind when she was shooting the series finale last year.
Chloe Bennet recently opened up on filming Agents of S.H.I.E.L.D.'s final episode. While she didn't give away any spoilers, she did confirm that there was a lot to film, particularly when it came to action sequences. And with things set to be broken down shortly after filming, she wanted to get everything right before the show wrapped:
Chloe Bennet's sentiments to TV Guide show that with the end on the horizon, she was still laser focused on getting the job done. And let's be honest, all of us would want to avoid getting punched in the face.
Despite Bennet's commitment to the show and her role as Daisy "Quake" Johnson, it's hard to imagine that she didn't get somewhat reflective once the cameras stopped rolling. And she wouldn't be the first to look back on the Marvel show. Since the final season began airing, more than a few cast members have shared their thoughts on S.H.I.E.L.D.'s legacy and even revealed things they would've have liked to see. For instance, Clark Gregg recently revealed the guest stars he would've loved to have had back for Season 7.
Nevertheless, Agents of S.H.I.E.L.D. has delivered a stellar final season up to this point, and all signs are pointing to an unforgettable series finale. Chloe Bennet has previously promised that the finale won't present longtime viewers with a "Game of Thrones situation." Meanwhile, co-star Jeff Ward firmly believes that the producers stuck the landing when it came to closing out the series.
Viewers still have a few episodes to go before they can lay their eyes on the finale but, after the latest episode, it would appear that the team will not be the same after they finish their final mission. Needless to say, fans are probably going to need to get their tissues ready.
New episodes Agents of S.H.I.E.L.D. air Wednesdays at 10 p.m. ET on ABC.
Covering superheroes, sci-fi, comedy, and almost anything else in film and TV. I eat more pizza than the Teenage Mutant Ninja Turtles.
Your Daily Blend of Entertainment News
Thank you for signing up to CinemaBlend. You will receive a verification email shortly.
There was a problem. Please refresh the page and try again.