Agents Of S.H.I.E.L.D. Elizabeth Henstridge Delivers Update On The Future Of Fitz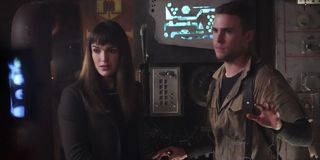 Agents of S.H.I.E.L.D. has been utilizing a lot of time travel in its seventh and final season. The characters have hopped from the 1930s to the 1970s and '80s, encountering Chronicoms and Hydra agents along the way. And, while Enver Gjokaj's Daniel Sousa has joined the agents on their time-traveling mission, one familiar face has yet to appear in Season 7. Leopold Fitz has been MIA, off on a separate, offscreen mission. Will he ever show up again? Elizabeth Henstridge delivered an update on the future of Fitz and it's still as mysterious as ever.
Fitz and Simmons have been separated quite a lot over the course of Agents of S.H.I.E.L.D., but Season 7 may be the longest they've been apart with zero information as to Fitz's whereabouts. A big part of why Coulson, Daisy and the rest of the crew haven't been clued in on what Fitz has been up to all season is because Simmons claims it would jeopardize his safety.
Details about Fitz are still scarce and he has yet to appear in Agents of S.H.I.E.L.D. Season 7. When will we find out more about what's going on with him? Here's what Elizabeth Henstridge told Marvel Live host Lorraine Cink:
At long last, some news about Fitz! It's not a whole lot of information about his whereabouts, but I'll take it. The fact that we'll get to learn more about what's been going on "directly from Fitz" is great news because it means that Iain De Caestecker may finally be returning to Agents of S.H.I.E.L.D., and soon. His absence on the show has admittedly left a gaping hole.
Brief spoilers ahead for the July 15 episode of S.H.I.E.L.D. In the latest episode, Jemma recorded an emotional message to Fitz, revealing to the audience that she's no longer in direct contact with her husband, but that she'll "find some way" for them to be together. End spoilers.
Elizabeth Henstridge also revealed that she directed the ninth episode of Agents of S.H.I.E.L.D.'s Season 7. The actress is incredibly "happy" that she finally gets to share this long-held secret, as the cast filmed Season 7 last year.
The actress goes on to say that she shadowed directors on the show for years, which included co-star Clark Gregg, before taking on directing responsibilities herself. Elizabeth Henstridge's directorial debut will air on July 22, and I wonder if this will be the episode where Fitz reappears. Whatever the case may be, we'll know soon enough.
Agents of S.H.I.E.L.D. airs every Wednesday at 10:00 p.m. ET on ABC. For more on what to watch, be sure to check out our 2020 summer premiere guide. Planning ahead? Swing by our updated fall TV schedule to find out when all the new and returning shows will debut.
Your Daily Blend of Entertainment News
Your Daily Blend of Entertainment News
Thank you for signing up to CinemaBlend. You will receive a verification email shortly.
There was a problem. Please refresh the page and try again.