Big Brother Spoilers: Will Nicole Franzel's Intel Affect Cody's Nominations?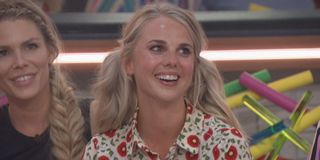 Warning! The following contains chatter from the Big Brother All-Stars live feed. Read at your own risk!
Cody Calafiore has been playing his Head of Household thought process close to the chest so far in Big Brother, but it looks like he may have gotten his list of potential nominations knocked down drastically. That's thanks in large part to Nicole Franzel, who wasted little time getting to work, and has already revealed some major intel to Cody in order to gain a quick ally early in the game.
Perhaps Cody was just letting her talk, but given the weight of the intel given, I think Nicole Franzel may have ensured she has some strong backing going forward. Here's what Nicole dished, and why this could come back to bite her in a major way should anyone in her other alliance catch wind of it.
Nicole Reveals Her All-Girl Alliance To Cody
Big Brother All-Stars' live feeds indicated that the all-female alliance was finally happening when Nicole Franzel talked to Daniele Donato about forming an alliance with Christmas Abbott and Da'Vonne Rogers. It was one of those non-committal agreements everyone is making at the beginning of the house to feel safe, but it was enough for Nicole to feed to Cody while the two talked in the Head of Household room.
Essentially, Nicole Franzel told Cody Calafiore that she will inform on her alliance and other women in the house in exchange for safety. Cody took the information in stride, did the usual schtick of telling the person what they want to hear, and then didn't seem to react strongly one way or another. He played it cool, but did it change his way of thinking towards how to move forward?
How Nicole's Intel May Influence Cody
I don't believe that Nicole Franzel was ever in Cody Calafiore's crosshairs prior to the conversation, but I think in revealing her alliance he's definitely going to make sure she and the key group of women she's involved with aren't on the block this week. That dwindles down the list of people that are guaranteed safety this week a fair amount and leaves some people out in the open just waiting to be picked.
We know that Cody Calafiore doesn't want to get blood on his hands, and he also wants to make sure he's not up on the block next week. It's a large part of why he made quick friends with Tyler Crispen and was pretty high up on Memphis Garrett as well.
I think Cody will continue to poach a couple of other physical male competitors for some alliance to help him this week, and my money is on David Alexander and Memphis. Those three spent some time together before the house merged, so I think it would be silly to think they didn't talk game in advance.
Who Will Cody Calafiore Nominate?
Right now the popular speculation seems to be that Cody will nominate Janelle Pierzina and Kaysar Ridha. I do think Kaysar is one of the targets (despite him also being in that starting-four group), and I think there's an easy argument for him to make that the two of them appeared in the same season and could make for a powerful duo.
The logic is sound, but I think announcing you're going after duos sets you up to be targeted by future duos. Plus, with the Safety Suite going to be a factor at some point, I think Cody Calafiore would need to be cautious considering two people may have safety in some way this week. I also think the fandom is doing a bit of manifesting, and mentally trying to deny that Cody doesn't have Nicole Anthony in his sights.
Nicole briefly spoke to Cody and was told she isn't a target, but I'm not sure I bought it. If you're talking about taking out someone with the least amount of blood on your hands, Nicole Anthony has once again had a timid entry to the house, and she has not been in on many big conversations. I would see that as someone I wouldn't need to worry about in the early game, but Cody may see that as a sacrificial lamb he can put on the block without pissing anyone off. Plus, if Nicole did get nominated, can we expect her to come after him for backlash?
Will Nicole Franzel's Intel Come Back To Bite Her?
Nicole Franzel's intel could come back to bite her, especially if Daniele Donato or Da'Vonne Rogers hears about it. Personally, I think the odds of there being blowback for Nicole are fairly low, considering this all-female alliance only barely existed to begin with. I honestly don't think anyone is married to it happening to begin with, so unless Nicole pushes the issue, I think she'll slide by.
Even if she does push the issue, I don't expect Cody Calafiore to run his mouth about what Nicole told him to anyone who would be concerned. Tyler Crispen is good about keeping most everything close to the chest, and I can imagine he would be the only person Cody feels comfortable enough with at this time sharing that intel. The only one really inter-mingling between the sexes a great deal is David Alexander, and I don't think he and Cody are that tight yet to be in on that type of information.
In the chance it does get out and blows up in Nicole Franzel's face, I would imagine she won't see any blowback until the following week. At that point, she's burned the bridge with the women and won't be of any use to Cody and his alliance if no one trusts her. It would be a very easy move for the following HOH to throw her on the block and get an easy week, but this is really only a worst-case scenario. I truly don't see this move blowing up in Nicole's face, as much as certain sections of the Big Brother fandom would like to see that happen.
Big Brother All-Stars (opens in new tab) is currently in season, and the next episode airs on CBS Sunday, August 9 after PGA Tour action. As always, continue to stick with CinemaBlend for more details on the season, and for more news happening in television and movies.
Your Daily Blend of Entertainment News
Mick likes good television, but also reality television. He grew up on Star Wars, DC, Marvel, and pro wrestling and loves to discuss and dissect most of it. He's been writing online for over a decade and never dreamed he'd be in the position he is today.
Your Daily Blend of Entertainment News
Thank you for signing up to CinemaBlend. You will receive a verification email shortly.
There was a problem. Please refresh the page and try again.