How Ellen Apologized To Her Staff Following Series Of Allegations About Workplace Mistreatment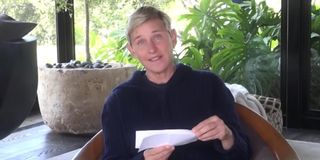 The Ellen DeGeneres Show has been in hot water all summer due to a variety of allegations of sexual misconduct and assault, and that the show is fostering a toxic workplace culture. DeGeneres herself addressed the allegations amid an investigation by Warner Bros. TV, and at the time, she apologized to her staff, citing that she was "disappointed to learn" about what transpired. She promised that things would "change" moving forward at the show, but that was before three of the series' top producers were fired. Following that major update, DeGeneres has apologized to her staff once more.
In July, current and former employees of the talk show anonymously spoke out about their alleged mistreatment by The Ellen DeGeneres Show's execs, including producers Ed Glavin, Kevin Leman, and Jonathan Norman. The trio has since been fired from the talk show following the conclusion of the investigation, and DeGeneres reportedly broke the news to the staff of the producers' ousting in a video conference call on Monday, August 17.
Ellen DeGeneres reportedly got emotional when addressing her employees, admitting that she "wasn't perfect." The talk show host reportedly remained committed to bettering the workplace and apologized if her actions were ever perceived as hurtful. Here's some of what DeGeneres said (via People):
Another source revealed that Ellen DeGeneres was reportedly "dying to see" her staff, but that she couldn't amid the investigation. Yet another source alleges that The Ellen DeGeneres Show is "putting in real structures and resources for people" so as to avoid toxic workplace situations from happening again in the future. Ensuring that employees are taken care of is reportedly "extremely important" to DeGeneres, who also is said to have apologized if her introverted nature made her come off as rude to others.
In the wake of the three producers being fired from The Ellen DeGeneres Show, DJ Stephen "tWitch" Boss was promoted to co-executive producer. (His response to the allegations was to say that, while there were issues to address, that the show had a lot of love going for it.) Meanwhile, executive producers Andy Lassner, Mary Connelly, and Derek Westervelt will reportedly carry on with the show as is.
Following the allegations of misconduct and workplace toxicity, there were rumors that The Ellen DeGeneres Show might be cancelled, or that the talk show host would be replaced by someone else. However, Andy Lassner addressed the rumors, saying that "nobody is going off the air." In addition, WarnerMedia boss Jason Kilar backed DeGeneres and was "fully supportive of her," while celebrities like Kevin Hart, Katy Perry, as well as DeGeneres' brother, shared their support for the host in social media posts.
Stay tuned to CinemaBlend for updates on The Ellen DeGeneres Show. In the meantime, be sure to check out our 2020 fall TV premiere schedule for more on what to watch.
Your Daily Blend of Entertainment News
Thank you for signing up to CinemaBlend. You will receive a verification email shortly.
There was a problem. Please refresh the page and try again.