Now, Ellen Degeneres' Brother Has Bluntly Spoken Out About Her Detractors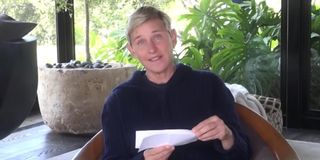 Former and current employees of The Ellen DeGeneres Show have accused the producers and senior managers of creating a toxic workplace environment and, not long after, reports of sexual misconduct became public too. The allegations have led Warner Bros. Television to conduct an investigation, with Ellen DeGeneres herself vowing "change" moving forward. However, some are holding the talk show host responsible for what's been happening behind the scenes. Now, DeGeneres' brother is bluntly speaking out against her detractors.
Not everyone is convinced that the talk show host is blameless. A few celebrities have corroborated the "mean Ellen" rumors, with some calling for her to be replaced. Vance DeGeneres took to Twitter to back his sister. Here's what he wrote:
Vance DeGeneres isn't the first to come to the defense of the talk show host. Jay Leno, Katy Perry, and Kevin Hart have come to the defense of Ellen DeGeneres in the days since the toxic workplace and sexual misconduct allegations went public. DeGeneres' wife Portia de Rossi also posted an "I Stand By Ellen" photo to her Instagram following the backlash, thanking fans for their support.
After posting to Twitter, Vance DeGeneres doubled down on his defense of Ellen DeGeneres in a now-deleted Facebook post, expressing disappointment in friends who have not lent their support. Here's what he wrote (via New York Post):
It's unclear what the future will bring for Ellen DeGeneres and her long-running talk show. There are rumors that James Corden could replace her but, of course, nothing has been confirmed by sources. At the very least, we know that The Ellen DeGeneres Show is not "going off the air," so there's that.
Stay tuned to CinemaBlend for updates on this story. In the meantime, be sure to check out our 2020 fall TV schedule for more on what to watch.
Your Daily Blend of Entertainment News
Thank you for signing up to CinemaBlend. You will receive a verification email shortly.
There was a problem. Please refresh the page and try again.