Netflix's The Haunting Of Bly Manor: An Updated Cast List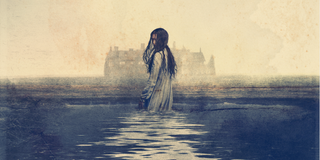 (Image credit: Netflix)
The Haunting of Hill House hit Netflix just in time for Halloween in 2018, and the streaming giant is set to deliver another round of frights with The Haunting of Bly Manor in 2020. Although an exact premiere date for the new show, which hails from the same creative team that produced Hill House, has not been announced yet, the stars who will bring the characters to life on the small screen have been confirmed.
The Haunting of Bly Manor will be based on the 1898 horror novella The Turn of the Screw, penned by Henry James. That said, the show will undoubtedly take some significant liberties with the source material, not least because the novella is relatively short and not exactly packed with multidimensional characters. Bly Manor, on the other hand, is expected to run for ten episodes and has a pretty large cast, so even experts on Turn of the Screw undoubtedly don't know exactly what's in store. And it will be set in the 1980s!
So, as we wait for The Haunting of Bly Manor to debut at some point in 2020, check out our updated cast list with the available details on the characters!
Victoria Pedretti
Victoria Pedretti stars in The Haunting of Bly Manor, and hers will be a very familiar face to viewers who checked out The Haunting of Hill House. Pedretti played the adult version of Nell Crain/the Bent-Neck Lady, whose childhood days at Hill House haunted her into adulthood, to her doom. For Bly Manor, Vanity Fair reports that Pedretti will play an American tutor by the name of Dani, and she seeks to escape her painful past by accepting a job looking after the two Wingrave children at a stately mansion. Dani is described as "sunny," so it's presumably safe to say that her painful past won't be quite as painful as Nell's was on Hill House!
Henry Thomas
Another familiar Hill House face coming to Bly Manor is Henry Thomas, who played the flashback version of Hugh Crain. His character for The Haunting of Bly Manor will be pulled from the pages of The Turn of the Screw. Thomas plays Henry Wingrave, who is the uncle of the two orphaned children of his late brother and sister-in-law. Wingrave prefers to support the estate and the children from afar. The character is an absent figure in the novella, so I find myself wondering if Thomas' role will be minor compared to Hugh Crain in Hill House, or if Bly Manor has some surprises in store.
Oliver Jackson-Cohen
Oliver Jackson-Cohen played Nell's troubled twin brother Luke in The Haunting of Hill House, but all signs point toward a very different character as he moves to Bly Manor. Jackson-Cohen will tackle the role of Peter Quint, a business associate of Henry Thomas' Wingrave with the tendency to take whatever he wants from Bly Manor. The show's version of Peter Quint sounds reasonably similar to the Peter Quint of Turn of the Screw, which could mean bad news for many characters. Interestingly, Jackson-Cohen didn't share too many scenes with Victoria Pendretti in Hill House despite playing twins; will The Haunting of Bly Manor feature more scenes between the two actors?
Amelie Smith
9-year-old actress Amelie Smith will tackle the role of Flora, the younger of the two Wingrave children at Bly Manor. Flora is a cheerful young girl who has a large collection of dolls in The Haunting of Bly Manor, many of which are handmade. The dolls will reportedly be one key to unlocking the mystery of what's actually happening at Bly Manor, and creator Mike Flanagan teased that there is "very little difference" between how Flora plays with her dolls and how Oliver Jackson-Cohen's Peter Quint interacts with others. Smith is a relative newcomer to showbiz, with seven episodes of the soap opera EastEnders to her name and 13 episodes as the voice of Peppa Pig in Peppa Pig.
Benjamin Evan Ainsworth
11-year-old Benjamin Evan Ainsworth will play Miles, the older of the two Wingrave children. While Flora is a cheerful collector of dolls, Miles is described as "volatile," which fits with his character in Turn of the Screw. In the source material, Miles returns to Bly Manor from boarding school after being expelled. The governess never learns the details behind Miles' expulsion, but she's charmed by the child. The first look at Miles in The Haunting of Bly Manor (seen above) is more unnerving than charming, if you ask me, so it should be interesting to see how the show handles Miles. Bly Manor will be Ainsworth's first big credit as an actor.
T'Nia Miller
T'Nia Miller is another Bly Manor star who didn't appear in Hill House, and her character should be key to the new show. Miller plays Hannah Grose, the manager of Bly Manor. Grose is a dependable manager who will describe Bly Manor as a "good place" to Dani, but she also might be deliberately ignoring what actually goes on there. Whether this means some misbehavior from Peter Quint, some ghost encounters, or something even more sinister remains to be seen. Miller is a prolific actress on the small screen, with roles on shows ranging from Witless to Years and Years to Netflix's Sex Education and Free Rein.
Rahul Kohli
Best known for his role on The CW's iZombie, Rahul Kohli will be trading in the lab coat to play a very different character in The Haunting of Bly Manor. Kohli plays Owen, the resident chef at Bly Manor who is unaware of the goings-on that will presumably cause trouble for Dani as she spends time there. When Kohli's casting was first announced in August 2019, Deadline reported that he would play a small town man "with a worldly mindset" who returns to the country to care for his mother. Bly Manor will be Kohli's first big live-action role since the end of iZombie in 2019.
Tahirah Sharif
Tahirah Sharif will play a character who probably won't meet a happy end: the governess who preceded Dani at Bly Manor. Sharif plays Rebecca Jessel, who is said to be very empathetic. Miss Jessel will have a relationship with Peter Quint; a Quint connection combined with Dani coming in as her replacement means viewers probably shouldn't get too attached to Miss Jessel as a living, breathing character. If a tragic fate does befall Miss Jessel, though, that doesn't mean a shortage of Sharif. This is a ghost story, after all! Sharif has appeared in a number of series, including Casualty and Waterloo Road.
Amelia Eve
What would a show about ghosts be without a skeptic on hand to poke holes in the supernatural stories? Amelia Eve will play Jamie, the groundskeeper of Bly Manor who is a confident skeptic. Like Rahul Kohli's Owen, Jamie is unaware of the strangeness at the estate and often untouched, but the first look at Jamie (seen above) proves that she won't be immune to some frights. Something tells me she'll have more to do than tend the grounds! Eve's biggest credit to date is an episode of the BBC Three comedy Enterprice, so The Haunting of Bly Manor could be a big break for her.
Kate Siegel
Now, onto some mystery roles played by familiar faces! Kate Siegel played the adult Theo Crain on The Haunting of Hill House, and she has been slated to appear in The Haunting of Bly Manor since all the way back in August 2019. That said, details remain scarce about what exactly she'll be doing on the show, and there's really nothing to go on but the guarantee that she'll appear. Will her character have a tie to Turn of the Screw, or another Henry James work? Will her character be entirely original? Will she somehow play Theo Crain again and tie Hill House and Bly Manor into one universe?
Catherine Parker
And finally, we have Catherine Parker! Although Parker didn't play a member of the Crain family, she did have a memorable role in The Haunting of Hill House as the very dead Poppy Hill, who appeared as a ghost. Her role in Bly Manor is currently as much a secret as Kate Siegel, although I think it's safe to rule out her playing Poppy again. Was her portrayal as a ghost in Hill House so good that she won a spot playing a ghost in Bly Manor? Or will her character be alive? How will she connect to The Turn of the Screw, if at all?
The Haunting of Bly Manor is expected to debut on Netflix in the fall of 2020, since filming fortunately wrapped before production shutdowns throughout the entertainment industry brought many projects to a standstill. Bly Manor is reportedly even scarier than Hill House, so I for one am hoping for a release around Halloween. What better way to celebrate the spookiest holiday of the year? For now, you can find the full run of The Haunting of Hill House streaming on Netflix, among many other options.
Your Daily Blend of Entertainment News
Laura turned a lifelong love of television into a valid reason to write and think about TV on a daily basis. She's not a doctor, lawyer, or detective, but watches a lot of them in primetime. Resident of One Chicago, the galaxy far, far away, and Northeast Ohio. Will not time travel, but will sneak references to The X-Files into daily conversation.
Your Daily Blend of Entertainment News
Thank you for signing up to CinemaBlend. You will receive a verification email shortly.
There was a problem. Please refresh the page and try again.