Mariah Carey Finally Opens Up About That Time Ellen Outed Her Pregnancy On TV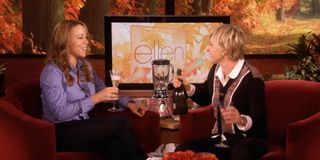 The Ellen DeGeneres Show has been under intense scrutiny in recent months. Several employees have alleged that producers and senior managers created a toxic work environment; the employees also claimed that there was rampant sexual misconduct and assault going on behind-the-scenes. Amidst these allegations, the show has been under more intense scrutiny and now an old clip from Mariah Carey's appearance on The Ellen DeGeneres Show has resurfaced online. It got enough notice that the singer is finally opening up about the moment DeGeneres outed her pregnancy on TV.
Back in 2008, Mariah Carey appeared as a guest on The Ellen DeGeneres Show. At the time, rumors were circulating that she was pregnant. During the interview, the talk show host asked Carey about whether she was pregnant, but the singer was mum and tried changing the subject. Ellen DeGeneres then poured Carey some champagne, which the singer called "peer pressure." She excused herself from drinking before confirming her pregnancy to Ellen minutes later. Speaking with Vulture, Carey recalled that particular appearance and how it impacted her. Here's what she said:
Even after all these years, I do think that the interview was incredibly awkward to watch. Mariah Carey miscarried not long after confirming that she was pregnant on The Ellen DeGeneres Show. However, she didn't reveal the information until she announced that she was pregnant once more in 2010 (Carey and then-husband Nick Cannon welcomed twins in 2011).
It didn't sound like Mariah Carey wanted to pile on to The Ellen DeGeneres Show any further and throw anyone "under any proverbial bus," but she did go on to mention the one thing she would have appreciated while doing the interview back then. In her words:
The singer didn't elaborate on the matter any further and closed the subject with a lyric, as only Mariah Carey would do. The singer has moved on in the years since and, after a decades-spanning career, Carey is all set to release her new memoir, titled The Meaning of Mariah Carey on September 29.
As for The Ellen DeGeneres Show, the talk show host has since apologized to her staff twice, once in a letter and the second time during a video conference call. It was during the call that Ellen DeGeneres confirmed to them that three of the show's producers were being fired from the show, and she also addressed the rumors that she didn't allow eye contact. Ultimately, DeGeneres has said she is "committed to ensuring" a better workplace environment moving forward.
Stay tuned to CinemaBlend for updates. In the meantime, be sure to swing by our 2020 fall TV premiere guide for more viewing options.
Your Daily Blend of Entertainment News