Despite Feud With Jim Bob, Duggar Husband Gives Hope For Maybe Returning To Counting On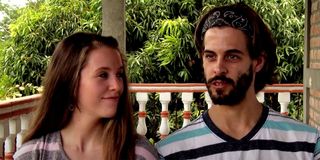 There's always a lot going on with the Duggar clan given the sheer number of Duggars who are known in pop culture, but one of the stories that has been a bigger deal this year has been the reported feud between Jim Bob Duggar and his son-in-law Derick Dillard. The latter has been open about a lot of the issues between his family and the Duggar patriarch, who has remained rather mum on the topic himself. But could Derick and Jill Duggar ever actually return to Counting On?
If you had asked me a short time, ago I would have hedged my bets on a definite "no" answer, but in a recent exchange with a fan, it seems like Derick Dillard at least holds some hope that the relationship between himself and Jim Bob could be repaired down the line. Or at least be repaired enough to warrant a return to Counting On.
When a fan asked whether or not Derick and Jill, who did appear in early seasons of Counting On, could make their return, Derick was noncommittal, but more positive about the potential prospect than you'd probably guess.
Of course, he could just be being polite. Or he could still deep down want to be a part of Counting On. Derick Dillard previously said that the rumors that he and Jill don't want to be around Jim Bob, Michelle and the other Duggars are not true, which seems to be evidenced by the fact that Jill is sometimes still seen in social media posts with her sisters. But that also doesn't necessarily mean they are champing at the bit to be reality stars again.
In fact, he has said that Jim Bob controlled pretty much every aspect of Counting On when the Dillards were still on that series. This led to conflict and led to Jill and Derick Dillard leaving the series back in 2017. Per Derick, the controlling nature of being on the reality series was just too much for their little family, so they left.
Derick Dillard has also said that since they have kids and have moved on it's been "more OK" that they quit Counting On and have been able to focus on their family in the time since. Then again, he's also said he's considered doing his own sort of reality livestream and he and Jill have a YouTube page, so there is definitely some interest in still remaining a reality personality, whether or not that is through Counting On.
It was only a few months ago that TLC even finally revealed the Duggars would be back for Season 11 of Counting On on the network. The new episodes had been rumored for a while, but when we finally got word they were in the pipeline Derick and Jill were not mentioned as being a part of the Season 11 cast. So even if amends are made, and that's an if, I'm guessing it would be some time before we could see the Dillard family on the small screen again.
Meanwhile, there's still a lot going on in Duggar world. Jessa Duggar Seewald recently had to debunk a pregnancy rumor, while Lauren Duggar opened up about her painful labor. There's always a lot going on with this clan. Meanwhile, Jill this week shared the first look at her son Israel heading to school.
Your Daily Blend of Entertainment News
Reality TV fan with a pinch of Disney fairy dust thrown in. Theme park junkie. If you've created a rom-com I've probably watched it.