Counting On's Lauren Duggar Details Being In Painful Labor For Nearly Two Days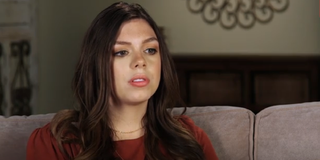 Counting On's Lauren and Josiah Duggar welcomed a healthy baby girl into the world last November. Bella Milagro Duggar's birth came nearly a year after the couple announced that Lauren had a miscarriage four months after their wedding in 2018. However, bringing that bundle of joy into the world wasn't exactly joyous in and of itself, and Lauren recently detailed her painful labor experience and how she was in hospital for nearly two days before Bella was finally born.
Labor is no joke, with hours upon hours of pain and exhaustion to accompany the life-changing experience. For the labor pains themselves, epidurals can work wonders, but not always. Lauren Duggar says she had to have two of them because she was hurting so bad, but not much changed. In a clip from the August 11 episode of Counting On, Duggar discussed the frustration with her labor and how long it went on. Here's what she said (via Us Weekly):
It was really rough going there for a long while for Lauren Duggar, and I think just about anyone would be exasperated after being in pain for so long with still no baby in sight. While Josiah Duggar was obviously not physically suffering through the labor himself, having to witness his wife being stuck in the throes of that agony for so long was certainly hard for him to take as well.
Lauren Duggar went on to say that she remained dilated at eight centimeters for "12 hours" and she wondered whether she should have already had the baby by that point. I can only imagine how maddening that must have been. Over 34 hours in the hospital with non-stop pain? No, thank you.
Michelle Duggar, Lauren's mother-in-law, said she knows exactly how "uncomfortable" that particular back pain is after having experienced it several times. Naturally, she was highly sympathetic for her anguished daughter-in-law, and served as a calming presence for her during the labor.
Being in a painful labor for nearly two days was probably worth it in the end, I'd say, and Lauren and Josiah Duggar were thrilled to finally welcome Bella into the world. In the months since her birth, Bella has become a staple of the couple's Instagram page. It's not too hard to understand why that is when you see the pictures. Bella seems like a pretty sweet and happy baby and the Duggars look like awfully proud parents in every picture with her.
New episodes of Counting On air Tuesday nights at 9:00 p.m. ET on TLC. Stay tuned to CinemaBlend for updates on the Duggars. In the meantime, be sure to check out our 2020 fall TV premiere guide for more on what to watch.
Your Daily Blend of Entertainment News
Your Daily Blend of Entertainment News
Thank you for signing up to CinemaBlend. You will receive a verification email shortly.
There was a problem. Please refresh the page and try again.