The Boys' Giancarlo Esposito Reveals His 'Secret' To Playing Stan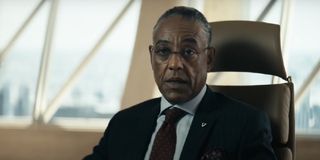 Mild spoilers ahead for The Boys Season 2.
The Boys Season 2 brought back Giancarlo Esposito's Stan Edgar. First introduced in Season 1, Stan is the CEO of Vought, the pharmaceutical corporation that pretty much controls The Seven, the diabolical team of faux superheroes. In Season 2, Stan has a much larger role, replacing Madelyn Stillwell as The Seven's handler. Esposito is incredible in the role, and he recently revealed his "secret" to playing Stan in Amazon's The Boys.
Within the first three episodes of The Boys Season 2, Stan has a tense face-off with Homelander. Stan quickly drops the act to let him know who's really in charge, much to the chagrin of Homelander. What's perhaps so interesting about Stan is that he doesn't have time to coddle the team, despite Homelander's violent tendencies. Recently, Giancarlo Esposito was asked what the secret was to playing an antagonist like Stan. Here's what he told ComingSoon.net:
There's no doubt that Stan knows how to "mitigate the damage," which gives him an advantage over Homelander and The Seven. In that sense, I think Giancarlo Esposito is right on the money in regards to Stan being on top of the world. Rather than being thrown for a loop whenever something bad happens (and a lot does go wrong on The Boys), Stan seems to have a plan for everything. That makes him a scarier antagonist than most because he cleverly gets ahead of any situation.
That was really evident following the media leak that outed Vought's use of Compound V, the substance that gave The Seven their powers. During a press conference, Stan lies and says he had no knowledge of Compound V and shifts the blame to Madelyn. With regards to the situation and solutions being "bigger" than The Seven and their egos, Giancarlo Esposito expands on that and why it helps him to understand Stan as an antagonist. In his words:
So far, I think Giancarlo Esposito has done a fantastic job portraying Stan, and his steely sense calm is exemplified in quite a few scenes thus far. There's no telling what else Stan has planned or how he'll continue to engage with The Seven moving forward, but I'm sure he'll continue to remind everyone of why he's in charge.
The first three episodes of The Boys Season 2 are currently streaming on Amazon Prime Video, with the remaining episodes dropping weekly thereafter. For more on what to watch, swing by our 2020 fall TV premiere schedule.
Your Daily Blend of Entertainment News
Thank you for signing up to CinemaBlend. You will receive a verification email shortly.
There was a problem. Please refresh the page and try again.