The Boys Season 2 Didn't Just Gender Swap Its Season 2 Antagonist, As Eric Kripke Reveals Other Changes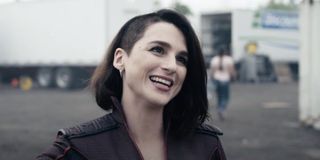 The Boys Season 2 will introduce Stormfront, the newest member of The Seven and an antagonist who takes great pleasure in royally pissing off Homelander. In the comics, Stormfront is a man but the decision was made to gender-swap the character for Season 2 of the Amazon series. Recently, The Boys showrunner Eric Kripke revealed that Stormfront being gender-swapped wasn't the only change for the character in the transition to live-action.
In the comics, Stormfront harbors Nazi ideologies and is more of a straightforward antagonist. However, such is not the case with The Boys' iteration of Stormfront, who is likely just as brutal as the other members of The Seven, but is also attuned to social media and can perhaps deliver a certain brand to the masses. In that vein, Eric Kripke explained how Stormfront was changed for the show and why. Here's what he told Den of Geek:
The Boys Season 2 trailer certainly indicates how Stormfront communicates with the masses. At one point she's seen speaking passionately to a crowd about how the "super terrorists will come," which seemingly ignites their fears. There's also the moment when she first introduces herself to Homelander while she's live-streaming on Instagram.
In that sense, I think Stormfront has definitely mastered the "attractive social media packaging" to sway public opinion. Eric Kripke goes on to elaborate about why that angle makes Stormfront a more potent, modern-day villain. In his words:
It'll be interesting to see just how dark Stormfront will get, and I know she will because she's a member of The Seven and enjoys ruffling Homelander's feathers. The fact that she isn't afraid of him at all may be a testament to the horrors she is capable of inflicting outside of presenting herself as an ally to the masses. Honestly, The Boys Season 2 can't come soon enough.
The Boys Season 2 will debut its first three episodes on Friday, September 4 on Amazon Prime Video. The remaining episodes will air weekly thereafter. For more on what to watch this fall, be sure to check out our TV premiere schedule.
Your Daily Blend of Entertainment News