The 5 Wildest Moments From The Boys New Season 2 Trailer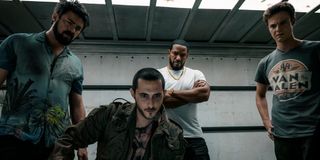 The Boys Season 2 is gearing up to be even bloodier than Season 1, and that's saying a lot considering that the Amazon series has always been uncompromisingly gory. The latest trailer for Season 2 puts Stormfront, the newest addition to The Seven, front and center and delivers some of the wildest moments we've seen from the show so far.
After watching the Season 2 trailer of The Boys, the first thing that's immediately noticeable is that Starlight has switched sides, presumably joining up with The Boys in their plans to take down Vought and the rest of the supes. Oh, and Giancarlo Esposito is back as Stan Edgar. That's just the tip of the iceberg, so let's break down the five most batshit moments from The Boys Season 2 trailer.
5. Butcher Boats Through A Whale
If you thought the scene with the dolphin flying out of the truck and being run over was gruesome, The Boys Season 2 has prepared an even more ruthless scene, this time involving a whale. The Deep is riding the whale in the trailer when Butcher speeds towards him and the sea creature in a boat. Instead of stopping, Butcher drives the boat straight into the whale and the very next shot is of him and The Boys climbing out from inside. Honestly, it's best not to get too attached to animals on this show.
4. Homelander Throws His Son Off A Roof
After being raped by Homelander, Butcher's wife, Rebecc,a was revealed to be pregnant and subsequently went into hiding. Suffice it to say that the diabolical Homelander found out that he had a son in the Season 1 finale. However, he may not have one for long after unceremoniously throwing him off a roof in the Season 2 trailer. Maybe Homelander's hoping he can fly?
3. Stormfront Asks Homelander To Laser Eyes Her Chest
Previous footage and information revealed that Stormfront was all about pissing off Homelander, but it would seem that The Boys Season 2 will also see her asking him to "stop being a pussy" and use his powers to shoot lasers at her chest. It's pretty insane and unexpected, if I'm being honest, but it's par for the course on this show.
2. Stormfront, Starlight, And Queen Maeve Attend A Premiere
Stormfront's plans are really at the forefront of the trailer. Recruit other "supermen" to join The Seven. But I guess there's also some time for her, Starlight, and Queen Maeve to attend what looks like a movie premiere. Large posters pepper the background ("Girls get it done"), and they're walking a red carpet with press all around. It's off-putting considering that there are military tanks driving down the street in another scene.
1. Homelander Threatens Starlight
Homelander is violent, controlling, and homicidal. Watching him murder Madelyn Stillwell in the Season 1 finale was brutal, so you can imagine how shocking it was to see him corner Starlight and Hughie and basically ask her to kill him. Hughie is bloody and terrified, and Starlight looks scared as well. We see her use her powers, assuming that she's killed Hughie, but I'll be interested to see how the scene actually plays out when Season 2 airs.
Check out the full trailer below!
Luckily, The Boys has already been renewed for Season 3, so fans won't have to hold their breath about any unresolved storylines. The Boys Season 2 will premiere on Amazon Prime on September 4. For more on what to watch, be sure to check out our 2020 fall TV premiere schedule.
Your Daily Blend of Entertainment News