Kaley Cuoco Had Some Words For Fans Calling Her Out For Wearing A Mask While Exercising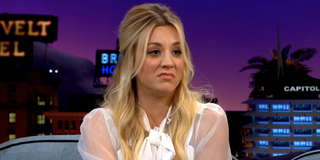 I don't think there's a single person who hasn't now spent a large amount of effort trying to find some normalcy in 2020. While the country has opened up a little bit, there are still a lot of things we can't do with the same regularity or in the same way as we did before a certain health crisis took hold, though, so even if we have to make some serious adjustments to be able to go back to something that feels routine, we do it. Such is the case with actress Kaley Cuoco, who's been working out at the gym, but she recently needed to have some words with fans who called her out for exercising while wearing a mask.
The former star of The Big Bang Theory has spent a lot of this year in quarantine like most of us, but she's now back on the set of her new HBO Max show The Flight Attendant, and (obviously) has to wear a mask most of the time on set when not filming. But, Kaley Cuoco also shared a video of her working out while masked recently, and had to stick up for herself after people came for her in the comments. Let's take a look at her Instagram post first and then discuss below:
Look, you guys. I've barely left my house for months on end now, and have stuck to that routine even though I can now go to quite a few more places, partly because I hate wearing a mask. My glasses fog up; I feel like I'm suffocating; I feel trapped and also like I'm being followed...it's a whole mess for me. So, I would never, ever go to a gym at this point in time and feel A-OK working out while wearing a mask.
But, I also wouldn't dare shame someone like Kaley Cuoco for doing it, as long as she felt comfortable with it. Unfortunately, many others did not agree, and took her to task for it. Luckily, Cuoco wasn't afraid to have words with them, and responded by saying:
You tell 'em, Kaley! I mean, honestly, people. Are we or are we not damned if we do and damned if we don't? It's clear that there's at least one person in the background in Kaley Cuoco's video, so why wouldn't she wear a mask in this shared, enclosed space? If she weren't wearing one, people would have probably called her out on that, as well.
A lot of the negative comments which prompted Cuoco's reply were focused on how "dangerous" it supposedly is to wear a mask while exercising, with a few people even mentioning that they thought she'd give herself carbon dioxide poisoning, but if that were true for someone jumping rope, wouldn't it be true for anyone who has to wear a mask several hours a day while working? There'd be fast food workers passing out all over the place.
As far as I'm concerned, Kaley Cuoco should be applauded for taking one for the team (the "team" is humanity, in case you were wondering) and making her jump session a bit more difficult by keeping her mask on for it. This is especially true, seeing as how I can't seem to make a single stop at the store for essentials without seeing at least one person sauntering through the aisles without a care in the world and not wearing a mask. Like, what is this? January 2020?
At any rate, I am more than pleased that Kaley Cuoco came back at everyone who was bad mouthing her masked exercise post. You can revisit her (unmasked) time on The Big Bang Theory right now on HBO Max, where she can also be heard in Harley Quinn. Until The Flight Attendant premieres on the streamer, you can see what else to watch with our fall TV premiere schedule!
Bachelor Nation, Gilmore Girl; will Vulcan nerve pinch pretty much anyone if prompted with cheese...Yes, even Jamie Fraser.
Your Daily Blend of Entertainment News
Thank you for signing up to CinemaBlend. You will receive a verification email shortly.
There was a problem. Please refresh the page and try again.