7 Superhero Characters The Big Bang Theory Cast Would Be Perfect To Play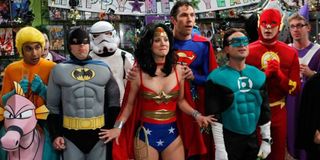 Characters from The Big Bang Theory love to cosplay, based on the times they donned the signature outfits of famous characters, especially superheroes. Have you ever wondered what comic book characters the likes of Kaley Cuoco or Jim Parsons should play in an adaptation?
Of course, Kaley Cuoco and Melissa Rauch have each voiced respective animated iterations of Harley Quinn, but I am talking about the real deal here: live action cinema (or TV, even). Now, we could just take the Justice League characters the cast dressed as in a Halloween episode and imagine how those casting choices would work. However, that idea is both too easy and too difficult to accomplish.
Fortunately, I have come up with seven well-known names from both Marvel and DC whom I think the seven main players of The Big Bang Theory should be considered for. Granted, a few of these characters have already been cast in current iterations, but what's wrong with having a little imagination?
Johnny Galecki - Wolverine
We often think of the Adamantium-clawed X-Men character as a badass of intimidating stature and a calorie-free diet. That is only because of Hugh Jackman. Did you know, however, that one of the names in consideration to play Wolverine in the first 2000 live action film was Bob Hoskins and fans' top choice to replace Jackman is Danny DeVito?
That is because Wolverine was initially depicted in the comics as having below-average height and a stocky build, which Johnny Galecki (The Big Bang Theory's mild-mannered physicist Leonard Hofstadter) matches relatively well, standing at 5'5". Playing a tortured hero like Logan would also give him a chance to show-off his dramatic chops, which have rarely been given the spotlight considering his best known roles also include David Healy on Roseanne and as the third Rusty Griswold in National Lampoon's Christmas Vacation.
Jim Parsons - Plastic Man
Sheldon Cooper may love being The Flash and Jim Parsons, the actor who played him to multiple Emmy wins on The Big Bang Theory, has said he would love to play The Riddler. Of course, this is not a list of hypothetical supervillain casting choices (even if his portrayal as a goofy narcissist antagonized for projecting his intelligence on others has clearly made him earn such a role, as far as I am concerned), so how about someone like Plastic Man?
DC Comics' Plastic Man was originally a crook named Patrick O'Brien who, after becoming exposed to an acidic substance that turned his flesh to elastic, turned to a life of heroism. The stretchy vigilante has been portrayed in the comics and other forms of media in a more humorous fashion, sometimes as a chatterbox known to annoy his peers. Sound familiar?
Kaley Cuoco - Supergirl
As previously mentioned, Kaley Cuoco is currently voicing Harley Quinn in a self-titled, animated DC Universe series, marking, technically, the second time she has played a DC hero after her The Big Bang Theory character Penny dressed as Wonder Woman for Halloween. Of course, to officially play a live action DC role, in my opinion, Cuoco should not be forced to sacrifice her natural blonde locks.
Therefore, I believe Kaley Cuoco would make a wonderful Kara Zor-El, Clark Kent's cousin, better known as Supergirl. She already has the look and the acting versatility to takeover the role once Melissa Benoist chooses to hang up the cape. Besides, there is plenty of fan art already around to further support this idea.
Mayim Bialik - Hawkgirl
Mayim Bialik has been known to play typically meek and soft-spoken characters, such as the title role of '90s sitcom Blossom and especially Sheldon Cooper's love interest, Amy Farrah Fowler. In real-life, the outspoken actress does not have that much in common with her The Big Bang Theory character, other than a degree a neuroscience, and more in common with strong-willed heroines of comic book lore, such as Hawkgirl.
Hawkgirl, one of DC's earliest female superheroes known for primitive weaponry and artificial wings, has been the alter ego of several characters, so Mayim Bialik could play a version not yet introduced in a screen adaptation. Better yet, how about a crossover in which the immortal soul of the previous title holder gets transferred into the body of Amy Farrah Fowler, turning her into the latest one to wear the bird-like cowl? I think Sheldon would be all for it.
Kunal Nayyar - Vision
Anyone else feel that astrophysicist Raj Koothrappali was the voice of reason among the cast of The Big Bang Theory (whenever he was able to speak, that is)? I, for one, would love to see London-born Kunal Nayyar channel that same "wisdom" into a comic book role, such as someone who served as the voice of reason in the Avengers: Vision.
The android is a unique being of eclectic ability and vast intellect who was the only one among the Avengers who was willing to offer any rational response to the Sokovia Accords amid the others' bitter antagonism in Captain America: Civil War. For now, with his mysterious resurrection in the upcoming Disney+ series WandaVision, the role is still owned by Paul Bettany, but if there was ever a reason to bring him back under a whole new vision, Kunal Nayyar is as good a candidate as any.
Simon Helberg - The Atom
Howard Wolowitz was initially introduced on The Big Bang Theory as a wannabe ladies man before settling down and starting a family. Howard's real-life counterpart Simon Helberg has undergone a transformation of his own, earning more dramatic roles during and since the sitcom's run. However, if comic book fans are not yet ready to see the famously comic actor as a serious superhero yet, how about someone similar to Marvel's comic relief, Ant-Man?
The Atom does share many similarities to Hank Pym's shrinking alter-ego, particularly that they are both scientists who shrink. While Ray Palmer, The Atom's secret identity, was eventually given the live action treatment on Legends of Tomorrow, Zack Snyder has said that an alternate version of the character was originally in the 2017 Justice League movie, suggesting a solo film is possible and casting Simon Helberg would be a fun choice. Not to mention, Helberg is known for a spot-on impersonation of Nicolas Cage, who almost played Superman before Brandon Routh, who now plays The Atom on TV, bringing this connection full circle.
Melissa Rauch - Dazzler
Melissa Rauch, who played food server turned microbiologist Bernadette Rostenkowski, is the second The Big Bang Theory alum to also voice Harleen Quinzel in 2017's Batman and Harley Quinn. That same year, she also played The Wasp in an animated Ant-Man miniseries. So, Rauch could go in either direction for a live action superhero role, but I really think she should be considered for one overlooked Marvel character.
Dazzler, a frequent X-Men collaborator with the ability to create light out of sound, was actually originally conceived out of a cross-promotional agreement with Marvel and Casablanca Records to create a fictional superhero who would also serve as the onstage persona for a real-life singer until the idea fell through, yet the character has remained a musician in the comics. Melissa Rauch actually performed a song as Harley Quinn in her animated film, but to a less-than-stellar reception, so starring as a Dazzler could be a moment of redemption for the actress, who does have a pleasant voice in real life.
What do you think? Are these the superheroes The Big Bang Theory cast members were born to play, or does this list make you weep for the future? Let us know in the comments and be sure to check back for more updates on the beloved sitcom's cast and other hypothetical casting calls here on CinemaBlend.
Your Daily Blend of Entertainment News
Jason has been writing since he was able to pick up a washable marker, with which he wrote his debut illustrated children's story, later transitioning to a short-lived comic book series and (very) amateur filmmaking before finally settling on pursuing a career in writing about movies in lieu of making them. Look for his name in just about any article related to Batman.
Your Daily Blend of Entertainment News
Thank you for signing up to CinemaBlend. You will receive a verification email shortly.
There was a problem. Please refresh the page and try again.