This Is Us Has Landed A Production Restart Date, And It's Soon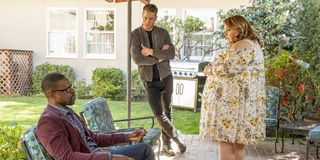 All's no longer quiet on the Hollywood front. After months of production standstills, several TV shows have resumed filming recently, including The Witcher, Superstore and The Conners. While the fall TV schedule is definitely not what it was in prior years, production restarts mean that we'll probably be getting an abridged version of it. One of the shows scheduled to return later this fall is NBC's This is Us. At long last the series finally has a production start date, and it's coming up really soon.
Mark your calendars because This is Us is due to return to filming on September 24. However, the date is still tentative and hasn't been set in stone. Per Deadline, This is Us' producing company 20th Television declined to confirm the scheduled start date. I'm no expert, but that start date sounds about right considering that NBC has scheduled the drama to air its two-hour Season 5 premiere in November.
If the production start date is pushed back, my guess is that it would also delay the show's fifth season. As NBC's highest-rated drama, I'm sure viewers were waiting impatiently for news on when This is Us would resume filming. The Season 4 finale aired in March, which meant that filming had wrapped prior to the Hollywood-wide shutdowns and the season ended as intended.
However, due to COVID-19 restrictions, the series' filming schedule was delayed by a couple of months (it usually starts filming in July), but that's reportedly about to change. Speaking of COVID-19, This is Us creator Dan Fogelman confirmed on Twitter that Season 5 would tackle this year's health crisis as a part of the show's present-day storyline. How it'll be handled and which of the characters will be affected remain to be seen.
That said, it seems that COVID-19 is also the running theme for several shows headed into the 2020-2021 TV season. Grey's Anatomy, CSI: New Orleans, and New Amsterdam will all be including storylines about the pandemic in each of their respective seasons. It's hard to say what these arcs will look like in fiction, but I suppose we'll just have to wait and see how it plays out.
The sooner This is Us resumes filming, the sooner we might learn about what will become of Kevin and Randall. If you recall, their already strained relationship took a turn for the worse at the end of Season 4. The brothers got into a brutal verbal fight, and they both said some things they couldn't take back.
It left viewers wondering how they might reconcile their relationship moving forward. Luckily, This is Us has been renewed for three more seasons back in 2019, so if Season 5 doesn't give us an immediate answer, Season 6 (hopefully) will.
This is Us Season 5 is currently slated to premiere on Tuesday, November 10. For more on what to watch in the meantime, be sure to check out our 2020 fall TV premiere guide.
Your Daily Blend of Entertainment News
Thank you for signing up to CinemaBlend. You will receive a verification email shortly.
There was a problem. Please refresh the page and try again.