New Amsterdam's Ryan Eggold Shares Thoughts On How Season 3 Will Handle Pandemic Storyline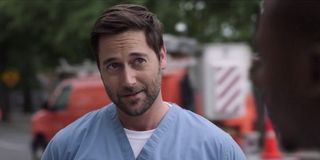 New Amsterdam will be in a unique situation when it returns for Season 3. Following production shutdowns in March, the medical drama wound up with a shortened season that got even shorter after NBC shelved the flu epidemic episode. Considering that it was also the episode that introduced Daniel Dae Kim's character, production had to do some editing to make his appearance in later episodes make sense. Now, New Amsterdam is set to tackle a COVID-19 pandemic storyline in Season 3 and star Ryan Eggold recently shared his thoughts on how the series will handle it.
How exactly New Amsterdam handles the pandemic storyline is anyone's guess at this point, but Ryan Eggold had some ideas about what he'd like to see on the show. Here's what he told E! News:
Things have definitely changed in recent months. While New Amsterdam's flu epidemic episode hit a bit too close to home at the beginning of the coronavirus pandemic, series showrunner David Schulner believes it would be "irresponsible" to ignore it in Season 3. New Amsterdam won't be the only returning series to tackle the pandemic. NCIS: New Orleans, The Good Doctor, and Grey's Anatomy are all set to include a pandemic-related storyline. Considering that we're still very much in the throes of the health crisis, I'll be interested to see how New Amsterdam and the aforementioned series will approach the topic.
That said, don't expect New Amsterdam Season 3 to focus solely on the pandemic. Ryan Eggold says the medical drama will start things off with the pandemic and "grow beyond that" to deal with the aftermath and "residual effects" it will have on the characters moving forward. The actor hasn't actually read the first script for Season 3 yet, but he's very excited to find out what happens.
Separate from the pandemic storyline, Ryan Eggold also revealed that the storylines left over from the unfilmed Season 2 episodes will roll over into Season 3. Unfortunately, Eggold says that "some of it will get lost." How that will shape the future of the show remains to be seen, but I'm willing to bet that the writers will work it out somehow.
New Amsterdam Season 3 does not yet have a scheduled premiere date. Stay tuned to CinemaBlend for updates on the NBC series. In the meantime, be sure to check out our 2020 fall TV premiere guide for more on what to watch.
Your Daily Blend of Entertainment News
Your Daily Blend of Entertainment News
Thank you for signing up to CinemaBlend. You will receive a verification email shortly.
There was a problem. Please refresh the page and try again.