Dear White People Star Exits Show, Accuses Lionsgate Of Racial Discrimination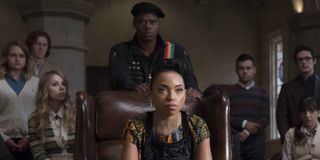 Netflix's Dear White People is one of the many shows that has been put on the back burner in the wake of the COVID-19 pandemic. Series creator Justin Simien has since confirmed that the upcoming fourth and final season has been written. However, it looks like the show will be without one of its stars when it returns for its final run, as Jeremy Tardy has reportedly exited the show following a pay dispute. And the actor has since accused Lionsgate Television of racial discrimination.
Jeremy Tardy, who had played African student Rashid Mburu since the show's first season, discussed the situation in a lengthy message posted to Facebook. The actor initially stated that he would not be returning due to his "experience with Lionsgate and their practices of racial discrimination." He then went on to explain that his management team tried to propose a counteroffer to the deal Tardy was initially offered for his return. While Lionsgate would not accept the offer, Tardy later found out that one of his white co-stars was able to re-negotiate their deal:
Tardy went on to say that he and his team brought up the matter before Lionsgate and the producers, who maintained that his deal could not be renegotiated:
Following this, Jeremy Tardy says that he, along with six other recurring cast members, opted to pass on the initial deals they were all offered. However, Tardy says their efforts were "undermined" due to "side deal offers and a lack of transparency." The actor also took Lionsgate and Netflix to task for their alleged practices after the companies recently voiced support for the Black Lives Matter movement.
Lionsgate has since responded to the matter in a statement (via Variety), saying that the decision was "a purely financial negotiation regarding deal terms" and that the monetary decisions were not race-related:
Representation in Hollywood has been a serious topic over the past several years, but it's truly picked up momentum in the wake of George Floyd's death and nationwide protests. With this, many companies have been making commitments to cast more people of color in prominent (and authentic) roles.
As of right now, Netflix has not announced a production start date for Dear White People Season 4. Details on the season's story are also being kept under wraps, though Justin Simien has teased that, in light of recent events, the season has now become "more relevant" than he and the writing staff could have ever imagined.
Keep it here at CinemaBlend for more news from the world of TV and movies.
Covering superheroes, sci-fi, comedy, and almost anything else in film and TV. I eat more pizza than the Teenage Mutant Ninja Turtles.