Netflix's Dear White People Creator Updates On Status Of Season 4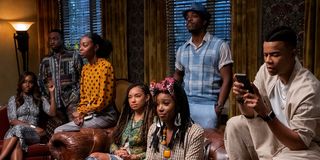 The acclaimed Netflix series Dear White People was renewed for a fourth and final season last October, and it was initially supposed to premiere at some point this year. However, the Hollywood-wide shutdowns in place since March likely prevented any forward movement. So will Dear White People be delayed for a while? Series creator Justin Simien recently weighed in, giving fans an update on the status of Season 4.
Justin Simien confirmed to Deadline that the series will tackle virtue signaling and the "myth of meritocracy," among other things in Season 4. The creator also revealed that, had studios not shut everything down, Dear White People would have started filming Season 4 already. With most productions at a standstill, Simien revealed the current status of the show's final season, saying:
Dear White People Season 3 ended on a sobering note, though a hopeful one, with the students of Winchester University feeling reinvigorated to continue tackling pertinent social justice issues. Fans of Dear White People should expect the show to carry on with its focus on important topics whenever it returns to Netflix.
Still, Justin Simien asks a big question there. While several film and TV productions have either resumed or will resume filming soon, studio execs and creatives are still figuring out how best to go about working while keeping people safe at the same time. Productions employ hundreds of people, so figuring out how to get back to filming without causing any harm has been an uphill battle. I'm hoping that Dear White People's cast and crew will have an incredibly safe set whenever they do go back to work, and that new protocols don't negatively impact the show's narratives.
That said, Dear White People stands as a testament that a show tackling race, gaslighting, and general social justice topics is still incredibly relevant in 2020. The series was also added to the Black Lives Matter collection on Netflix, and it has reportedly seen an increase in viewership. For three seasons, Samantha and her friends have been at the forefront of conversations that have taken a national stage of late. But, is Justin Simien altering any of the original Season 4 plans in light of recent events? Here's what Simien had to say:
A big part of what makes Dear White People work is its unflinching discussions on race, social justice, abuse and more. It's handled each of these with honesty that you likely won't find in most other shows, and the cast and crew have already been doing it for three seasons. I look forward to the important conversations and storylines that Season 4 will surely cover.
The first three seasons of Dear White People are currently available to stream on Netflix. Season 4 does not yet have a premiere date, but stay tuned to CinemaBlend for updates. For more on what to watch in the meantime, be sure to check out our complete list of Netflix premiere dates, as well as our summer TV premiere guide.
Your Daily Blend of Entertainment News